HSBC Expects U.S. to Make European Stocks Appeal Again in 2019
(Bloomberg) -- European equities might not remain on the sidelines for much longer, and all thanks to the U.S. economy, according to HSBC Private Banking.
The least-loved equity market of this year, European stocks, has struggled as investors pulled about $43 billion from the region amid political and economic concerns, preferring the U.S. stock market instead. But this is about to change, according to HSBC Private Banking, which expects the pace of the U.S. economic boom to start slowing in the first half of 2019, fueling the shift of attention toward Europe. It could also possibly make HSBC raise its European-stocks rating to neutral from underweight.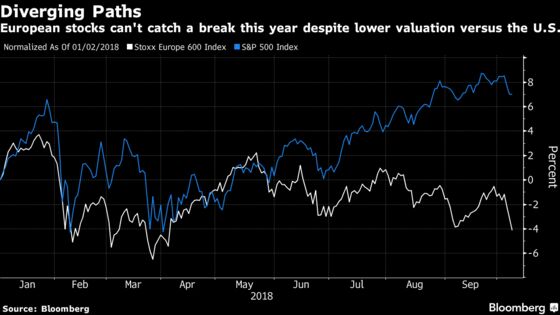 "At the end of the first quarter I think is when the U.S. momentum might ease a little bit in terms of economic growth," Willem Sels, chief market strategist at HSBC Private Banking, which has about $262 billion under management, said in a phone interview. "I think you have the same timing, somewhere towards the end of the first quarter, or so, that we might jump into Europe."
Data on Friday indicated that U.S. hiring cooled by more than forecast in September and wage gains eased slightly. The jobless rate has fallen to a 48-year low as President Donald Trump's tax cuts juiced economic growth and supported demand for labor.
The discount of European equities' compared with the U.S. is an advantage, said Sels, though, headwinds such as a weaker euro, political turmoil in Italy and slower earnings growth continue to play against the region. His advice is to focus on the "core" European countries and avoid Italy. At the moment, HSBC Private Banking, which advises wealthy individuals, is overweight U.S. stocks.
"I wouldn't be too negative on Europe and that's why we are looking at an entry point somewhere, and it's indeed the political risk that keeps us from adding," Sels said.
At the same time, he said it's too early to call an end to the S&P 500's super-rally. U.S. stocks are up about 8 percent this year compared to a drop of 4.4 percent for the Stoxx Europe 600 Index.
"From an economic perspective, the cycle will continue in 2019 and potentially 2020, the equities markets will anticipate that a little bit, but we think we have another six months of these gains," Sels said.