How Low Can the FANG Stocks Go? Traders Search for a Bottom
(Bloomberg) -- How low can they go?
That's the key question for traders looking at some of Wall Street's largest tech and internet stocks, which have been among the most dramatic laggards in the market recently after leading it higher for most of the year.
The so-called FANG stocks have dropped precipitously this month as disappointing growth outlooks torpedoed the thesis that their lofty valuations are supported by fundamentals. Amazon.com Inc. and Netflix Inc. have seen particular weakness, with the one-time trading favorites getting an equally aggressive move to the downside as the momentum that made them such successful bets for years now works against them.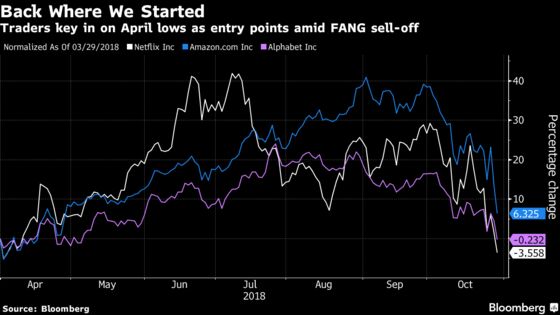 Other FANG stocks, including Facebook Inc. and Google-parent Alphabet Inc., have also seen double-digit drops in recent weeks. The sell-off "is another momentum play," according to Bruce Bittles, chief investment strategist at Baird & Co.
"The market was loaded into these names and now there's an unwinding, just as you're seeing in the marijuana industry," said Bittles, referring to another formerly hot sector. "Now there's such strong downside momentum that any attempt at a rally fades. People keep calling bottoms and getting hurt; they're trying to catch falling knives, but the decline still hasn't caught up to the fundamentals."
Bittles said he won't feel like the tide has turned until 90 percent of the trading volume in a single session is to the upside. "I'm looking for a capitulation, and then a rally. Otherwise it seems like the market's narrow leadership is catching up with the deterioration seen under the major averages," he said in a phone interview.
Amazon fell as as much as 4.1 percent on Tuesday, its third straight daily drop, even as the broader market rebounded. The company remains on track for its worst month since November 2008, and the sell-off has taken it to its lowest intraday levels since April. Meanwhile, Netflix fell as much as 4.8 percent, extending its own three-day slide, and the stock's worst monthly performance since April 2012.
Shares of both companies fell below their 200-day moving averages last week but are still sharply higher on the year, suggesting there is still plenty of room for downside.
Michael Matousek, head trader at U.S. Global Investors Inc., said investors are paying renewed attention to fundamentals, particularly in an uncertain environment marked by rising interest rates and a potential worsening trade war. Amazon and Netflix look pricey by traditional metrics, one reason that investors have begun to pivot to "old tech" names that have slower growth, but less-rich valuations.
"After Amazon's report, people started asking why they should pay 90 times earnings for 30 percent growth," Matousek said in a phone interview. "They just started selling and selling, and that caused the stock to break under key levels that had been holding and keeping people interested."
Matousek said traders were looking to the April lows in major FAANG names as potential entry points. Netflix broke below that level Tuesday, trading below $280. On a closing basis, Amazon's April low comes in around $1,372, while it is about $1,010 for Alphabet.
The next test for the group comes soon with Facebook reporting earnings after the close.