How Bank of America Figures Out What's Driving the Stock Market
(Bloomberg) -- The key to understanding freshly volatile equity markets?
Well, since you're reading this, you're off to a good start.
Bank of America Merrill Lynch economists Aditya Bhave and Anna Zhou developed a model to judge what's really moving markets by analyzing the content of Bloomberg's daily markets wrap.
This is an event-study approach: the economists looked at days in which the S&P 500 moved at least 0.5 percent since reaching its all-time high on Sept. 20, and used news coverage of the session to attribute the move to a given factor, such as trade, the Federal Reserve, macroeconomic data, commodities or international news.
Their conclusion: blame for the fourth-quarter bludgeoning of risks can't be laid solely at the Fed's feet. It's a more nuanced, multifaceted story.
"Our analysis points to negative data surprises, rather than the Fed, as the biggest driver of the equity correction,'' they wrote.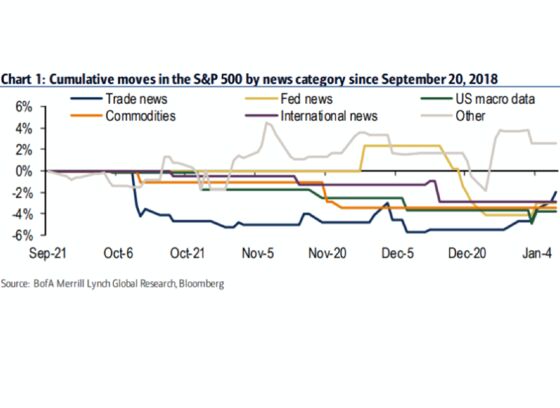 Underwhelming economic data stateside was a 3.8 percent drag on benchmark stock gauge, according to Bank of America's analysis, compared to a 3 percent linked to the U.S. central bank. Even oil's rapid downdraft played a more substantial role in fueling the equity retreat than monetary policymakers, they reckon.
Looking forward, the pair recommends investors buckle their seat belts and prepare for turbulence.
"Some of the key headwinds to risk assets could abate in the coming months,'' they write. "But there are so many different factors worrying investors at the moment that the probability that they will all have a benign outcome is low.''