How a Mountain of Debt Brought a Top Zinc Producer to the Brink
(Bloomberg) -- Nyrstar NV, one of the world's largest zinc smelting companies, is collapsing under the weight of its own debt.
The shares plumbed fresh lows on Tuesday and the price of its bonds due next year is now 50 cents on the euro. Analysts say the company is headed for an inevitable restructuring, and the shares will soon be worthless. Here are five charts that explain how this powerhouse producer was pushed to the brink.
1) The Big Mistake: A Debt-Fueled Buying Spree
When it listed in Brussels in 2007, Nyrstar made its money buying zinc ore from mines and smelting the raw material into a refined metal. A few years later, the company embarked on a debt-fueled run of mining acquisitions. The timing proved terrible. Natural resources were just about to peak as China's economy cooled.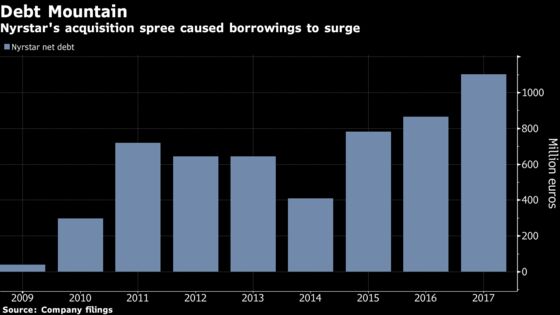 2) The Price of Bad Deals: Writedowns
Many of the newly acquired mines didn't live up to their promise, and Nyrstar was forced to write down the value or sell them at a loss.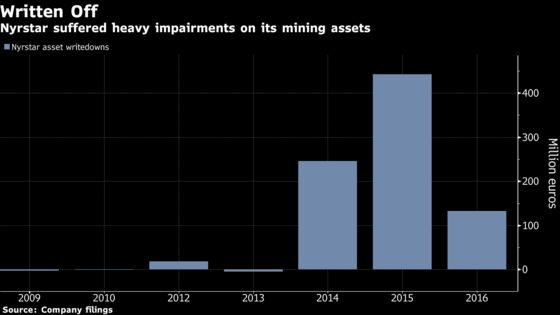 3) The Margin Squeeze
Nyrstar's mainstay business of buying ore and smelting it into metal has suffered. Zinc ore costs surged in recent years, and the company couldn't pass on the higher price. Treatment charges (an industry metric of profitability) fell 40 percent between 2015 and 2018, causing smelting profits to sink.
Spot treatment charges are starting to rise, which suggests that business could improve next year. For now, Nyrstar is buying most of its raw materials under annual deals, which were priced at multiyear lows.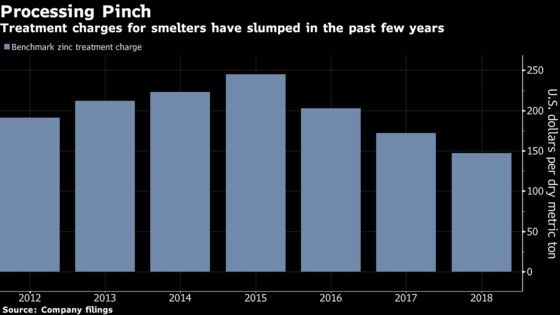 4) Zinc's Plunge and Interest Due
Zinc prices have dropped 24 percent this year, making it harder for the industry to turn a profit. While other smelting businesses faced the same strains, Nyrstar's woes are compounded by the interest payments on its debt.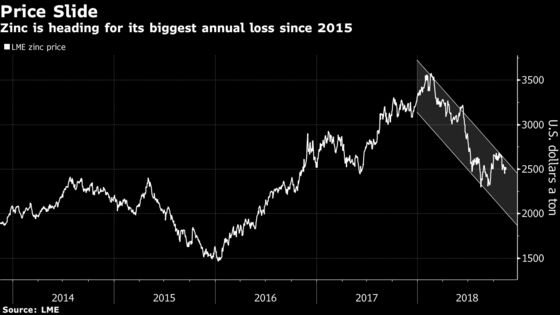 5) Why the Crisis Is Now
Analysts sounded the alarm over Nyrstar's debts for years, but the situation is now at fever pitch. The company has a 340 million euro ($383 million) bond due in September and there are doubts that it'll be able to repay. What's more is that the core smelting business lost money in the third quarter. Nyrstar also plans to temporarily close part of a plant in Australia because of lead emissions.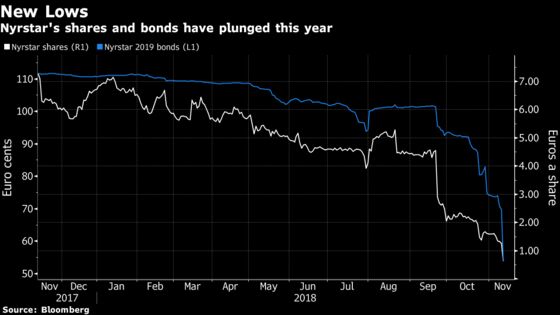 6) Next Steps: A Debt Deal?
Analysts have said the debt needs to be restructured and the equity will likely be wiped out. A spokeswoman for Nyrstar didn't immediately return a call and email seeking comment.
Here's ABN Amro Group NV's view on some of Nyrstar's options.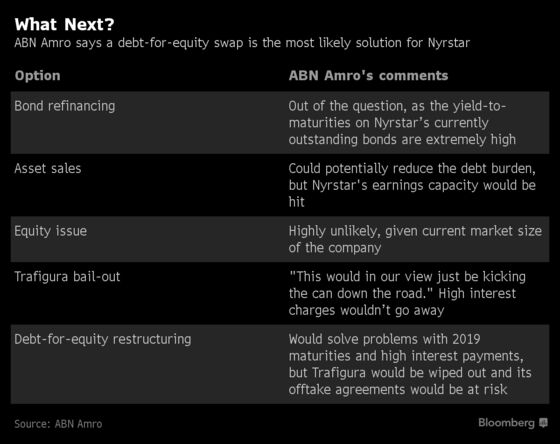 7) The Trafigura Question
The crucial question is whether Trafigura Group Ltd. will rescue Nyrstar.
The trading house is its biggest customer, supplier and shareholder with a 25 percent stake. It has also made prepayments to Nyrstar as part of its offtake agreements and has provided the company with a $250 million working capital facility. A Trafigura spokeswoman said it remains a supportive shareholder, but declined to comment further.
For more stories on Nyrstar's collapse
Nyrstar Plunges as Analyst Warns Shares Will Get Wiped Out 
Trafigura's Bold Bet on Zinc-Maker Nyrstar Is Getting Uglier

Nyrstar Draws Heat From Debt Investors as Bonds Hit Fresh Low