Korean Fund Sees Opportunity in Tech Stocks Hit by Trade War
(Bloomberg) -- South Korean stocks are being unfairly sold off alongside their Chinese counterparts on investor concerns about the ongoing trade war, but that has created a buying opportunity and the trend should eventually reverse, according to a local fund manager.
Hanwha Asset Management, which oversees about 95 trillion won ($84 billion), has highlighted a number of exporters most hit by the U.S.-China trade war, including display maker LG Display Co. and chip manufacturers Samsung Electronics Co. and SK Hynix Inc. It sees the potential for Korean companies to profit from the dispute over time, and take market share from Chinese peers.
"That's the only way we could probably survive," said Lee Junhyuck, a managing director at Hanwha in Seoul. If the trade war drags down China's economy, and other regions grow faster as a result, "Korea has the chance to export more to those regions," he said.
In addition, Korean companies may benefit should U.S. efforts to stop the alleged theft of intellectual property, particularly in memory chips, make it more difficult for Chinese technology firms to compete with their global peers.
U.S. security concerns about China-made equipment have already helped boost shares of South Korea's Hanwha Aerospace Co., an aircraft parts manufacturing company, according to a note from Shinhan Financial Investment on Wednesday.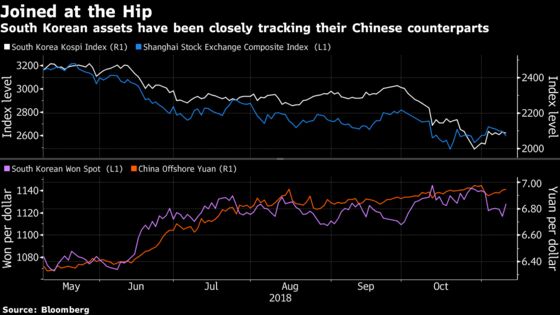 To be sure, not all Korean stocks will benefit, according to Lee. Domestic equipment-makers as well as tourism and consumer shares tied to the spending of Chinese tourists will continue to suffer from the trade war, he said.
South Korean assets have tracked the slump in China's this year thanks to their regional proximity and the Korean economy's reliance on exports. The Kospi Index has fallen 16 percent, just behind the 20 percent slump in the Shanghai Composite Index. The won has dropped over 5 percent against the dollar in 2018, compared with a 6 percent decline in the offshore yuan.
Lee doesn't expect a quick turnaround on his investments, seeing uncertainties persisting into next year. U.S. tariffs on Chinese goods could boost volatility in consumer prices, leading to faster Federal Reserve rate hikes and tighter liquidity, he said.
Yet in the long run, "Korea is not China," said Lee, whose Hanwha Korea Legend Mid & Small Stock Securities Feeder Investment Trust has beaten 94 percent of its peers over the last three years. Economic indicators will eventually prove a catalyst for Korean assets even if China's situation grows worse due to the trade war, he said.