How a Dovish Tone at the Fed Sounded Across Markets
(Bloomberg) -- From emerging-market bonds to developed-nation currencies, the ripples from Jerome Powell's comments on interest rates barreled through markets in seconds.
The Federal Reserve chairman, who warned in October that monetary policy was "a long way from neutral," said Wednesday at the Economic Club of New York that interest rates are "just below" the neutral range. That was enough to send a disparate set of stocks, bonds, currencies and commodities spinning.
Momentum shares, among the biggest losers during the six-week slump in U.S. equities, soared after Powell assuaged rate concerns. The iShares Edge MSCI USA Momentum Factor ETF rallied 3.4 percent in its best day since August 2015. Amazon.com Inc., the second-biggest constituent of the fund, rallied 6.1 percent, while Microsoft Corp., the biggest holding, advanced 3.7 percent.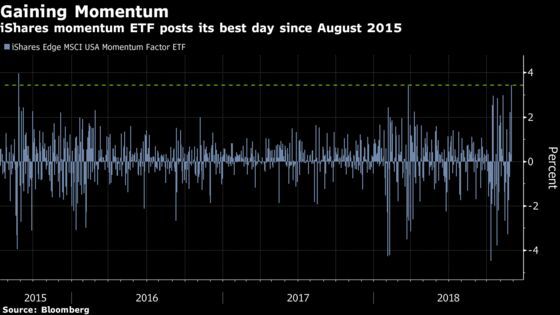 "With increased likelihood that the rate hiking days are short lived, investors are likely to embrace risk-on strategies like MTUM," said Todd Rosenbluth, director of ETF research at CFRA Research. "This is a tech and consumer discretionary-oriented fund though it is soon to rebalance and likely add heath-care. Unlike traditional growth ETFs like Vanguard Growth, this ETF is not locked into certain sectors."
Emerging Markets On a Roll
Powell's dovish remarks weakened the dollar and boosted emerging assets shunned for months amid escalating trade tensions and growth uncertainty. MSCI's emerging markets equity index advanced 1.2 percent, while 17 out of 24 developing nation currencies rose. The largest exchange-traded fund tracking stocks rose 2.4 percent.
"It's mostly due to FX," said Andy Wester, senior investment analyst at Proficio Capital Partners. "The dollar index fell quite a bit on his comments, which has been a problem for EM companies of late. Also, there's a good chance something on tariffs gets done this weekend at the G20."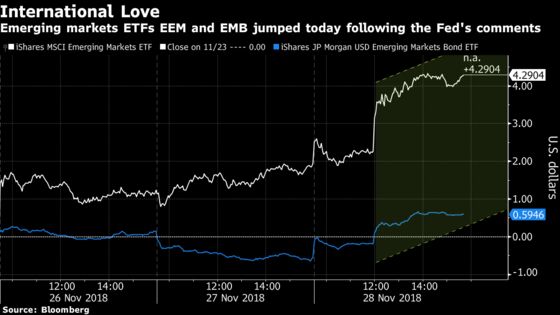 As developing equities enjoyed the Fed-fueled rally, so did high-yield debt. The $7.1 billion SPDR Bloomberg Barclays High Yield Bond exchange-traded fund rose 0.8 percent in the biggest advance in more than a year. The fund had posted three consecutive monthly outflows as investors flocked into safer assets.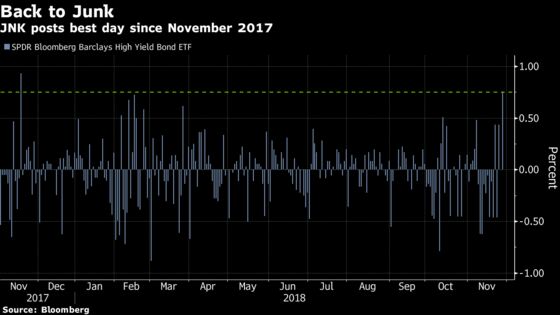 Powell's reminder that policy makers are data dependent drove the dollar into the biggest decline this month. The currency has advanced in six of the past seven months, drawing support from the Fed's tightening.
"The Fed has paid lip service to data dependence in the last few years, but data dependence has now arrived," said Alan Ruskin, global co-head of foreign-exchange research at Deutsche Bank AG. "We are not too far off the top of the dollar."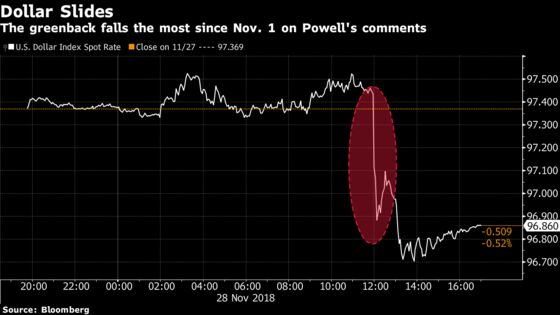 Powell's comments gave gold its first gain in four days. A falling U.S. currency helped deliver the metal a bit of a reprieve after pressuring the classic safe haven and other metals all year long.
"The USD will be knocked off its upward trajectory due to a flat yield curve, low rates relative to other G10 countries on a hedged basis, and as the Fed is likely to be less aggressive at a time when other central banks begin to really normalize their policies," Bart Melek, head of commodity strategy at TD Securities, wrote in a note. "The path of the USD is important, as it has been the key factor weighing on the yellow metal this year."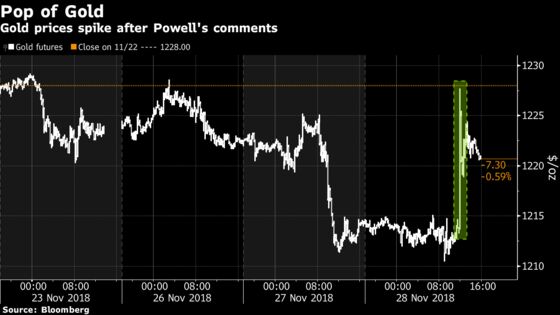 The yields on Mexican dollar-denominated 10-year bonds slid 16 basis points to 4.8 percent. The yields dropped as prices rallied amid optimism the dollar will stay lower after reaching a 16-month high earlier in November.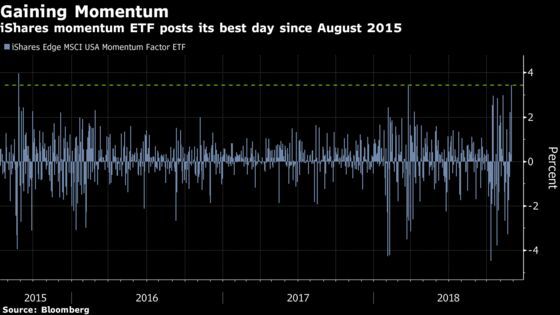 Ten-Year Yields Ambivalent
In contrast, the U.S. 10-year yields were little changed. After falling 14 basis points in the two weeks leading up Powell's comments, the yields barely budged at 3.06 percent. Yields on two-year securities fell.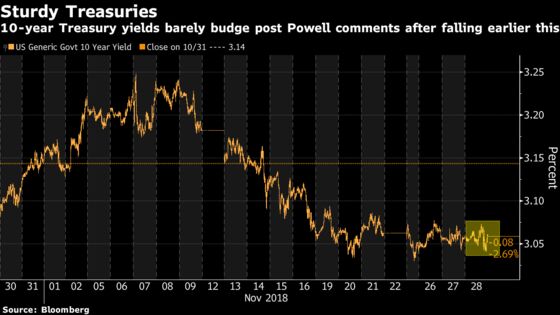 "I'm not at all surprised that the biggest move in the market is the 2-year and that the 10-year is essentially unchanged," said Eric Souza, senior portfolio manager at SVB Asset Management. " That makes complete sense as far as what the yield curve signals. The front half is Fed-related more so around the 2-year, and then the long end is more GDP growth, inflation, things like that. Today was definitely a Fed move from that perspective."