Hopper's 'Chop Suey' Sets Artist Auction Record at $91.9 Million
(Bloomberg) -- Barney Ebsworth began collecting 20th century American art in the 1970s because Old Masters, which he grew to love during his military service in France, were too pricey.
It was a prescient move for the luxury travel entrepreneur, who died earlier this year, and his heirs.
A part of his collection sold for $323.1 million at Christie's during two dedicated auctions this week in New York. The sales included 91 lots ranging in style from magical realism to Abstract Expressionism, and established 24 artist records. Only six pieces failed to find buyers.
A special evening sale of 42 works from the Ebsworth collection on Tuesday attracted a throng of dealers and collectors including John McEnroe. The top lot was Edward Hopper's iconic painting, "Chop Suey," which fetched $91.9 million.
"He bought high in his time and he is selling even higher," Eric Widing, Christie's deputy chairman who specializes in American art and sculpture, said after the Tuesday auction, describing the event as "a professional thrill."
The 1929 "Chop Suey," described by Christie's as "the most iconic Hopper left in private hands," depicts two women sitting across the table from each other in a Chinese eatery. It's the highest price so far of the week of semiannual sales in New York, where more than $1.8 billion of art is up for grabs. Auction houses and dealers are gauging buyer appetite against a backdrop of volatile equity markets, and the results so far have been mixed.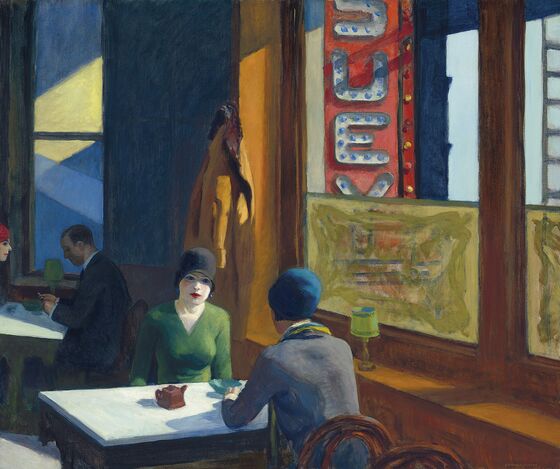 Asian buyers were largely absent Tuesday evening and many of the top lots met with resistance. Willem de Kooning's 1954-55 "Woman as Landscape," which was estimated at $60 million to $80 million, drew only one, pre-arranged bidder. Still, the final price of $69 million beat the Abstract Expressionist's previous auction record of $66.3 million, set in 2016.
Final prices include buyer's premium added to the hammer prices; estimates don't.
Most of the top lots were supported by pre-arranged bids to ensure the works sell. The price for the Hopper reflected a $4 million fee paid to the buyer who was also a third-party guarantor.
"Shallow bidding creates opportunities," said Skarlet Smatana, director of the George Economou Collection in Athens, who was a buyer at the sale but declined to identify what she purchased. "There were a few important opportunities tonight at low estimates."
Jackson Pollock's 1950 "Composition with Red Strokes" fetched $55.4 million against an estimate of $50 million to $70 million. The price didn't surpass his auction record is $58.4 million from 2013. The buyer was Swiss art dealer Doris Ammann, who also won a wooden sculpture of a hen by Alexander Calder for $8.4 million.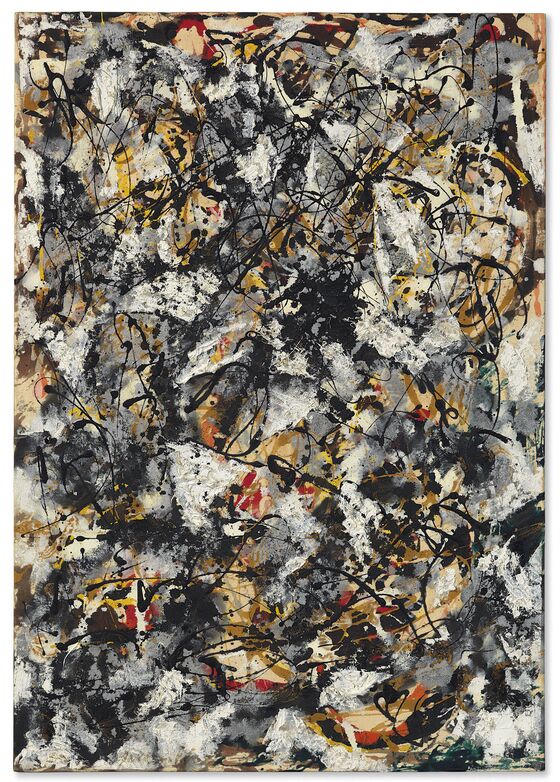 Joan Mitchell's "12 Hawks at 3 O'Clock" fetched $14 million, below her auction record of $16.6 million. Ebsworth bought the 10-foot-tall canvas for $310,500 at Christie's in 1997.
Among the new artist auction records were Arshile Gorky's "Good Afternoon, Mrs. Lincoln," which sold for $14 million and Joseph Stella's "Tree of My Life," which went for $5.9 million. Ebsworth bought the work for $2.2 million at Christie's in 1986. The 7-foot-tall square canvas depicted an elaborate scene complete with birds, butterflies, and flowers.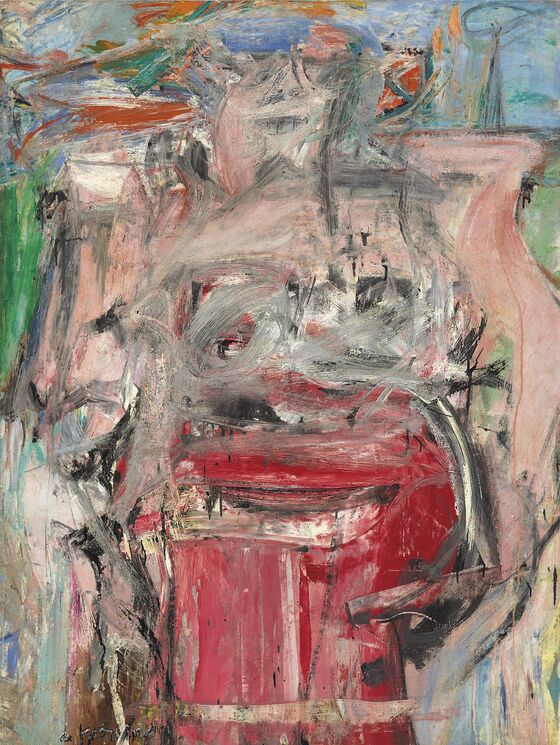 Ebsworth, who died in April at 83, founded the Intrav luxury travel agency in 1959 and took it public in 1995. He started Royal Cruise Line in 1972 and Clipper Cruise Line in 1981. In 2007 he promised 65 works from the collection, including "Chop Suey" to the Seattle Art Museum, but after his death Christie's won a group of more than 90 works.
"'Chop Suey' is an icon and it belongs in a museum," said Heinrich zu Hohenlohe, a dealer based in Berlin who attended the auction. "As a dealer I see this as an opportunity, of course. As a citizen of the world, I see it as a cop-out."
On Wednesday, 49 less expensive lots were offered during a day sale at Christie's, totaling $5.3 million. All but one piece -- a portrait of a man by Edgar Degas -- found buyers. Some pieces produced frenzied bidding wars.
The top lot was a 1923 painting, "Orchestra," by Morris Kantor that soared to $516,500, almost eight time its low estimate. A 1937 Mondrian-like abstract canvas, "Composition 239A" by Jean Xceron fetched $100,000 against the estimate of $10,000 to $15,000.