Hoping Fed or Trump Can Save Stocks? Stifel Says Don't Bet on It
(Bloomberg) -- A hawkish Federal Reserve and the simmering U.S.-China trade war are often blamed for October's equity rout. One school of thought holds that a reversal in either will set the stage for a stock rally.
Not so fast, warns Barry Bannister, equity strategist at Stifel Nicolaus.
With interest rates already too high for the market to handle, a softer Fed stance would ultimately be seen as a lack of confidence in the economy, squelching any equity gains, Bannister says. And as much as it may soothe investors' nerves, a U.S.-China deal is unlikely to improve the trade imbalance between the world's two largest economies. Or worse, it could complicate things in China, since a more amicable relationship with the U.S. would forestall the country's ability to further devalue its currency.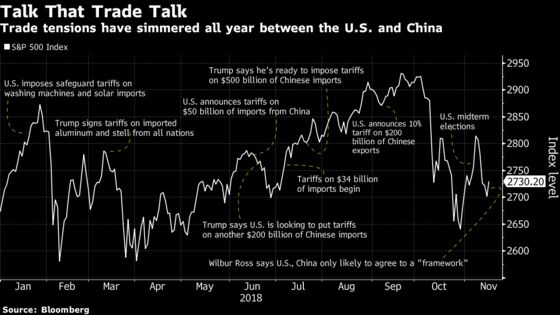 "A Fed 'pause' and trade 'deal' may only be Band-Aids," Bannister wrote in a note this week.
The assessment is not good news for many who have hoped that the Fed or Trump would provide a reprieve for the market after the S&P 500 fell to the brink of a 10 percent correction for a second time this year.
At the center of Bannister's cautious view are some worrying trends that won't go away easily. One, the Fed's hands are tied with fiscal stimulus on the run. Two, economies outside the U.S. are not as healthy, and any changes in policy may do more harm than good. For instance, a Fed pause could send the dollar lower, a scenario that wouldn't be taken well by Europe and Japan, where weaker currencies are counted on to revive growth.
That the market may end up performing poorly under a dovish Fed rang true with Shawn Cruz, manager of trader strategy at TDAmeritrade.
"If they pause, they could have a legitimate concern for the economy going forward," he said in an interview. "Short-term, maybe it would help add liquidity, but if you're someone watching markets, you'd say 'why would the Fed pause?' The reason would be a genuine concern for the outlook on the economy."
Moves toward resolving the trade tiff with China, another issue weighing on investors, might not provide long-term relief either, according to Bannister. An agreement won't necessarily put to an end to the dispute. China's interest rates remain high amid credit quality problems, and its economic growth is already decelerating.
The U.S. and China have intensified their efforts to strike a truce at the upcoming G20 meeting in Argentina, where President Donald Trump and his Chinese counterpart, Xi Jinping, are scheduled to meet at the end of this month. Trump on Friday said he is optimistic about resolving the dispute after receiving a response from Beijing to his demands.
"President Trump might 'get played' by China at the G20 on Nov. 30, with China offering a large 'shopping spree' for U.S. goods that would only be cosmetic," Bannister wrote. "Although equities may rally on relief from 'trade war,' China has few palatable options for additional stimulus. In that way, any relief rally from averting trade war may fade, in our view, in light of the difficult China rebalancing ahead."