Hope Returns for Philippine Stock Investors After 17% Plunge
(Bloomberg) -- Some investors are finally starting to see the light at the end of the tunnel for Philippine stocks -- at least in the short term.
After a plunge of more than 17 percent this year, ATR Asset Management Inc. and First Metro Investment Corp. are among the fund managers who see gains coming for the Philippine Stock Exchange Index as they say Friday's inflation data signal the surge in consumer prices could be peaking. Julian Tarrobago, the head of equities at ATR, said he's deploying cash.
"It reinforces our buy-on-weakness strategy," said Tarrobago, who helps manage $1.8 billion and has less than 7 percent of his portfolio in cash. He said he prefers infrastructure, property and consumer stocks. "This is the time to buy as value is re-emerging more significantly now and inflation will soon decelerate."
Consumer prices rose less than estimated in September and trailed the central bank's forecast. The results are a sign the recent interest-rate increases are helping, Tarrobago said. He sees the PSEi climbing to 7,300 in the near term -- up 3.1 percent from Friday's close -- and hit 8,000 by year-end should inflation ease and oil prices moderate. The gauge rose as much as 0.5 percent to 7,114.61 by 11:23 a.m. Manila time on Monday, the biggest gain in Asia.
Soaring consumer prices, a tumble in the peso and slowing economic growth have triggered an exodus from Philippine equities, which lost almost $47 billion of value this year as foreigners withdrew more than $1.6 billion from the nation's stocks. The PSEi's valuation sank to 15 times estimated earnings for the next year, the least since January 2016 -- just before the market staged a rebound that eventually took the index to a record in January.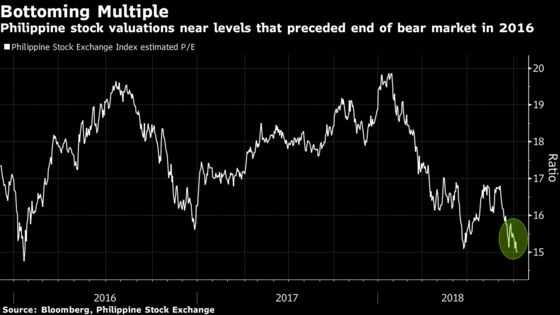 Robert Ramos, the chief investment officer at East West Banking Corp., says that even though Friday's inflation data may fuel a rally in both stocks and bonds, the benchmark index may struggle to stay above its 7,300 in the near term. He advises to stay cautious and selective, citing rising oil prices and the peso's weakness as potential headwinds. The gauge should hold above 6,800 if moves in crude and the currency support the central bank's outlook that inflation will begin to ease this quarter.
"We are keeping durations very short for our fixed-income portfolio but watching for opportunities to go long while we remain liquid for the discretionary-equity accounts," Ramos said. "We will continue with that for now and wait for opportunities to buy if prices move lower because there might still be more volatility down the road."
For Cristina Ulang, the head of research at First Metro in Manila, consumer prices could ease should the government implement non-monetary measures to counter inflation, such as importing rice based on tariffs rather than quotas. She said the PSEi could "easily" climb to 7,300 -- and even 7,350 -- in the near term.
"We have gone so far down below what the fundamentals justify, and value is emerging," Ulang said. "There are signs inflation is easing and hopefully it will hold and decelerate in the fourth quarter. Investors are more incentivized now to do a slow accumulation."