Hong Kong Stocks Surge Most Since 2011 on Bill Withdrawal Report
(Bloomberg) -- Hong Kong stocks soared on reports Chief Executive Carrie Lam will formally withdraw the extradition bill that's sparked months of protests.
The MSCI Hong Kong Index surged 5.4%, its biggest gain since October 2011. Real estate firms led the gains, with Wharf Real Estate Investment Co., New World Development Co. and Sun Hung Kai Properties Ltd. all up more than 9%. The Hong Kong dollar strengthened as much as 0.08%. The Hang Seng Index closed 3.9% higher.
After the market closed, Lam announced the formal withdrawal of the legislation, which had earlier been reported by media including the South China Morning Post. Hang Seng Index futures fell as much as 1% after her televised address, which didn't include the setting up of an independent commission of inquiry into police violence -- one of the requests of protesters.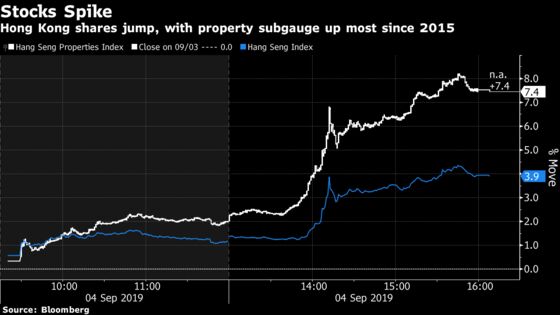 The withdrawal of the bill could provide a way to reduce public anger and stem the protests that have swept the city since June, although it's unclear whether demonstrators will be appeased. The MSCI Hong Kong Index tumbled 8.6% last month as increasingly violent street clashes, the trade war and an economic slowdown darkened the outlook for the city's companies.
If the withdrawal "can somehow improve the situation and ease the unrest, that's great news," said Sam Chi Yung, a strategist with Springwaters Financial Securities Ltd. "But I'd stay cautious," he added.
The Hang Seng Properties Index rose 7.4%. The gauge had tumbled more 20% since its April high through Tuesday. Sun Hung Kai Properties Ltd. had its best gain since 2009. MTR Corp., which has seen a number of stations deliberately damaged in the protests, climbed 6.4%.
Here's what other analysts are saying about the stock market reaction. Quotes have been edited and condensed for clarity:
Patrick Bennett, head of macro strategy for Asia at Canadian Imperial Bank of Commerce:
Anything that promotes an easing of uncertainty and tension is a market positive, but only to the degree that some risk premium is removed. Economic fundamentals will always dominate longer term. In that regard, the influence of ongoing trade tensions and the impact on Hong Kong businesses and sentiment from the last few weeks will take time to recover.
Gary Ching, vice president of the research, wealth management department at Guosen Securities (HK)
It's unlikely that retracting the bill will be enough to placate the unrest -- this concession by the government may instead motivate protesters to do more to get their other demands met.
Nader Naeimi, head of dynamic markets at AMP Capital Investors Ltd.:
"A huge tail risk has been reduced. This, together with easing market concerns over Chinese retaliation against U.S. companies in the trade war and expectations of a significant monetary easing by the ECB soon, opens a window for a strong rebound in markets ahead of the Fed meeting later in September."
Gavin Parry, Hong Kong-based managing director at Parry Global Group.
"Just as the U.S. markets hang on tenterhooks for any kind of positive news from the trade talks, the Hang Seng Index is mirroring that in terms of the domestic impasse. These markets are really looking for a decent reason to break out. All major central banks are on an easing stance. That's the undercurrent underwriting global sentiment, looking for positives in relation to that.'"
Colin Harte, portfolio manager at BNP Paribas Asset Management in London:
"It depends on how the protesters respond – whether they treat this as a victory and calm down and hold dialogue, or whether some of them get excited and think 'let's push further'."