Hong Kong Stocks at the Center of Thursday's Sudden Crash Rebound
(Bloomberg) -- A group of Hong Kong shares rebounded after a mysterious plunge on Thursday.
Jiayuan International Group Ltd. surged as much as 99 percent, while Sunshine 100 China Holdings Ltd. and Rentian Technology Holdings Ltd. climbed at least 44 percent intraday. The companies said they're unaware of reasons for the extreme price moves. Jiayuan -- whose market value is around a third of what it was earlier this week -- said in a statement Thursday that its business operations and financial condition is normal.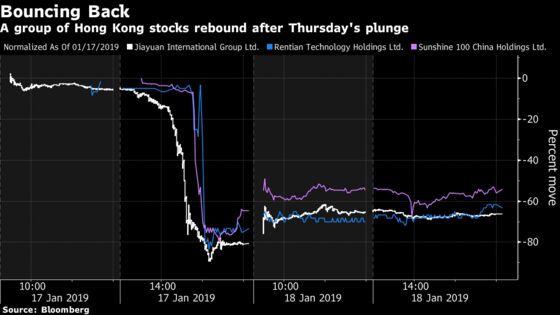 "Shares are rebounding today after some companies said their financial positions are still healthy, but their share prices are still far from the level before Thursday's plunge," said Banny Lam, head of research at CEB International Investment Corp. "Investors are very sensitive and cautious about companies' financial health, especially some small companies, as the economic environment isn't very good and liquidity is very tight."
Speculation on Thursday's plunge ranged from cross-shareholding causing a collapsing domino-effect, to share pledging and maturing debt. Some decided to take advantage of the slump -- mainland Chinese investors purchased a net $13 million worth of Jiayuan shares through the Shenzhen-Hong Kong trading link Thursday.
"Many shareholders, especially the ones at property firms, tend to pledge a lot of their stake for extra liquidity and that's very risky for the stocks," Lam said. "We may see some more surprises."