Hong Kong's Worst Run of Monthly Losses Since '82 Looks Certain
(Bloomberg) -- Hong Kong's equities are facing one more unwanted milestone.
With about two months left of the year, the city's traders have already endured declines exceeding 2 percent for the Hang Seng Index on 12 occasions. Another one would match the count for 2015, when China's stock bubble burst and its shock currency devaluation rocked markets worldwide. Compare that to last year, when drops of that magnitude happened only twice.
The Hang Seng Index closed 1 percent lower on Thursday, paring an earlier decline of as much as 2.4 percent.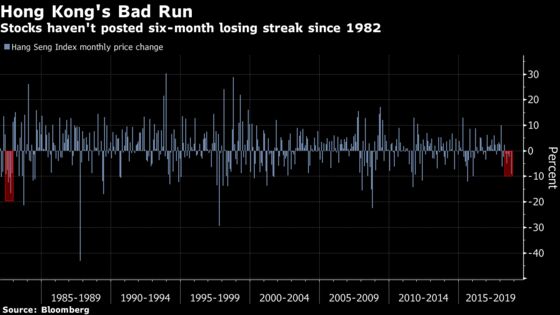 Hong Kong's equity market has been hit from all sides this year, caught in a U.S.-led tech sell-off, a slump in the yuan, souring sentiment for emerging markets and one of the worst years ever for stocks across the border in mainland China. Already languishing in a bear market, the Hang Seng Index is set for a 10 percent slump in October -- putting it on course for a six-month losing streak, the worst since 1982.
That year, talks between China and the U.K. about the city's future sparked panic across financial markets, triggering a sharp depreciation of the Hong Kong dollar. To help contain the turmoil, the currency was pegged to the greenback in October 1983. While it's moved within a narrow band ever since, the Hong Kong dollar touched the weak end of its managed range earlier this year for the first time since 2005 and in September jumped the most in 15 years.
It's been a painful start for what has historically been the kindest quarter for the city's stocks. All but three of its biggest companies are down this month, with last year's favorites Tencent Holdings Ltd., Sunny Optical Technology Group Co. and AAC Technologies Holdings Inc. losing more than 16 percent.