Hong Kong's Tycoons Recoup $9 Billion on Optimism Unrest to Ease
(Bloomberg) -- The 10 tycoons who lost about $27 billion over the past six weeks from a stock rout in Hong Kong recouped a third of those losses Wednesday on optimism the political unrest roiling the city is set to ease.
The local benchmark Hang Seng Index soared 3.9% on Wednesday, the most in 10 months, after the South China Morning Post said Chief Executive Carrie Lam was planning to formally withdraw an extradition bill that set off the protests in June. The leader announced the move after market hours.
The day's rally added $9.4 billion to the net worth of the tycoons whose fortunes are mainly tied to Hong Kong-listed companies. Their total wealth grew to $203.5 billion, according to the Bloomberg Billionaires Index.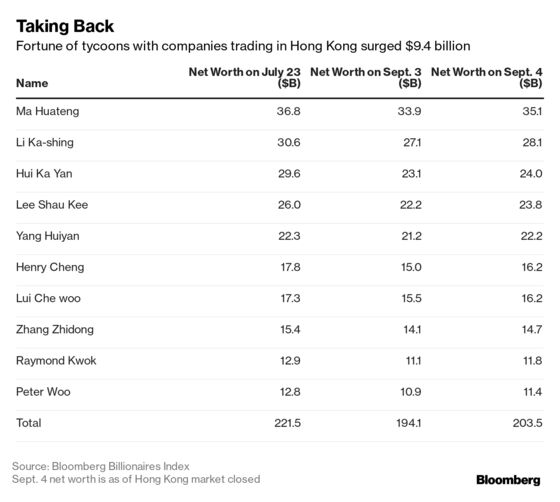 The turmoil since the introduction of the controversial legislation, which would've allowed extraditions to China, has dented retail to property sales in Asia's financial hub. The mostly weekend demonstrations have seen some of the fiercest clashes between protesters and riot police.
"Anything that promotes an easing of uncertainty and tension is a market positive, but only to the degree that some risk premium is removed," said Patrick Bennett, head of macro strategy for Asia at Canadian Imperial Bank of Commerce.