Hong Kong's Hottest IPOs Bring Worst Returns to Investors
(Bloomberg) -- Hong Kong's hottest initial public offerings have produced the worst returns for investors this year, while the least popular deals have fared far better.
Ping An Healthcare and Technology Co., in which retail investors placed orders for 654 times the shares initially available, has tumbled 37 percent since it started trading in May. Biotechnology firm Ascletis Pharma Inc., whose retail book was covered 10 times, is down 44 percent from its IPO price, and Meituan Dianping, a food-delivery giant that attracted billionaire investors including Hong Kong's richest man Li Ka-shing, has dropped 24 percent.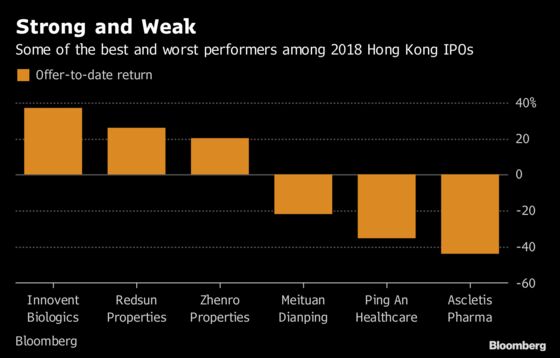 Redsun Properties Group Ltd., Zhenro Properties Group Ltd. and DaFa Properties Group Ltd. received individual orders filling just 0.8 times their retail books, on average. Yet they've climbed an average 18 percent from their IPO prices, putting them among the top five performers from deals above $100 million. Innovent Biologics Inc. is the best performer. It had a retail subscription ratio of only 1.1 times and has surged 35 percent.
The 10 most popular stocks by retail subscription ratio -- from 36 offerings above $100 million -- have slumped 36 percent on average, according to data compiled by Bloomberg. The 10 deals with the lowest subscriptions average a drop of just 4.8 percent. The average performance of all 36 on the list is a 7.9 percent loss.
Tongcheng-Elong Holdings Ltd., a travel website backed by Tencent Holdings Ltd., soared 27 percent in its debut Monday, after receiving individual orders for about 2.7 times its retail book.
It's been a tough year for Chinese equities as a whole. Investor sentiment has been bruised by a range of factors including the trade dispute with the U.S. and signs of an economic slowdown at home. The onshore stock market has lost $2.7 trillion in value since late January.