Hong Kong's Bruised Equities Are Heading Into Kindest Quarter
(Bloomberg) -- Hong Kong's equity bulls could finally get some reprieve in what's turning out to be one of the worst years for the city's traders since the global financial crisis.
The final three months of the calendar year tend to be kind to the Hang Seng Index: it has posted a drop on only six occasions in the past three decades. The gauge has risen an average 6.1 percent in the fourth quarter during that time, more than double the average gains for any of the other three periods of the year, according to data compiled by Bloomberg.
Investors will be glad to see the end of a painful three months, the worst quarter for the benchmark since 2016 and one in which it completed its first back-to-back quarterly losses in more than five years. Already reeling from China's tumbling currency and the Sino-U.S. trade dispute, Hong Kong's lackluster earnings season and an emerging-market crisis helped tip the Hang Seng measure into a bear market this month.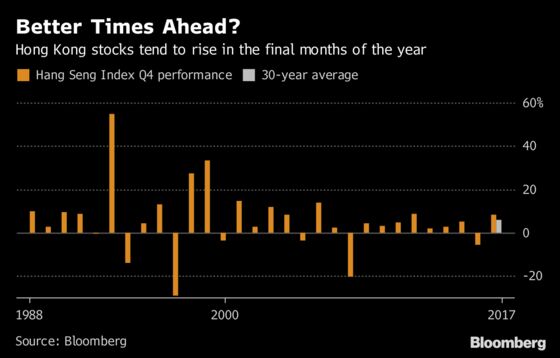 While history is on its side -- the fourth quarter of 1993 hosted one of the city's biggest ever stock rallies of 55 percent -- the Hang Seng gauge has also seen some of its biggest drops in the final months of the year. It fell 29 percent at the height of the Asian financial crisis in 1997 and 20 percent in 2008.