Hong Kong's Battered Stocks Set for Reprieve Via Record Buybacks
(Bloomberg) -- A record wave of share repurchases by Hong Kong-listed companies could be a signal that the city's beaten-down equities are ready for a turnaround after a year of underperforming global peers. 
Last year, 192 firms bought back a combined HK$72.1 billion ($9.2 billion) worth of their own shares, the biggest annual tally on record, according to data on announced deals compiled by Bloomberg dating back to 2002. Topping the Hong Kong leader board were CK Asset Holdings Ltd., meat producer WH Group Ltd. and smartphone maker Xiaomi Corp.
The buybacks accelerated since the second quarter -- coinciding with the Hang Seng Index's descent from a February 2021 peak -- led by real estate, technology and consumer companies, which were among the hardest hit by an array of regulatory crackdowns in China. Higher buyback volumes were recorded in April, June, September and December.
A surge in share repurchases has been a hallmark of five Hang Seng Index rallies since the global financial crisis in 2008, Zhang Yidong, global chief investment strategist at Industrial Securities Co., wrote in a recent note. The last time buybacks jumped from February to October 2018, the Hang Seng Index bottomed out in October and saw a 19% rally in the subsequent six months, according to Zhang.
Buybacks "are often a sign of a company's confidence and can set a benchmark for investors," he added.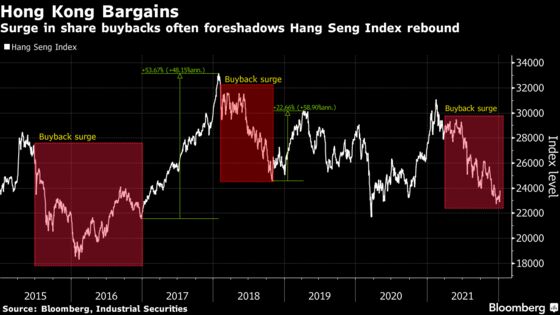 While buybacks may signal that corporate directors deem shares in their companies as cheap, such deals can merely be a means to tweaking financial statements or an indicator that management lacks ideas on how to use money for expansion or diversification.
The Hang Seng Index had been trading below book value -- a situation rarely seen in the past. The equity gauge plunged 14% last year, hurt by a triple-whammy of Chinese debt-payment woes related to property firms, weak retail spending and Beijing's regulatory crackdowns in pursuit of the "common prosperity" goals of President Xi Jinping.
| Company | Total value of shares repurchased in 2021 |
| --- | --- |
| CK Asset Holdings Ltd. | HK$19.5 billion |
| WH Group Ltd. | HK$15.0 billion |
| Xiaomi Corp. | HK$7.96 billion |
| Wuxi Biologics Cayman Inc. | HK$3.08 billion |
| Tencent Holdings Ltd. | HK$2.60 billion |
| * Data represents top company buybacks  |   |
While recent stock repurchases are a positive sign for a potential rebound in Hong Kong this year, they're no guarantee that enough investment will follow to sustain a rally, according to Wang Hanfeng, chief strategist and managing director at China International Capital Corp. 
"More buybacks are a vote of confidence from insiders on intrinsic value and an indicator that the market may have bottomed out," Wang said. "But investors probably also need to see earnings recover and regulatory clarity."
Hong Kong's stock benchmark has climbed more than 4% to start this year after suffering the worst performance in a decade and the biggest decline globally for a market's main index in 2021.