Hong Kong Dividend Traders Already Priced In HSBC's Big Cut
Payments to shareholders by Hong Kong companies will be better than elsewhere, dividend futures show, even if one of the city's biggest stocks won't be handing out cash this year.
Contracts allowing traders to speculate on dividend rates in the Hang Seng Index imply a cut of about 12% in 2020, compared to 28% for the S&P 500 and about 54% for the euro area benchmark, according to calculations using futures maturing in December. Futures tied to HSBC Holdings Plc's payment dropped 61% this year to a record low of 19 cents just before the lender said there would be no handouts in 2020.
Optimism remains that many companies listed in the city will be encouraged to distribute their profits, with HSBC the only firm on the Hang Seng Index that's subject to U.K. regulation. It stands out against a payout freeze elsewhere in the world, with authorities nudging firms to preserve cash. Analysts who had predicted a cut for HSBC see some of Hong Kong's biggest sources of dividend largesse, including Hang Seng Bank Ltd. and Sands China Ltd., raising their payouts this year. Hang Seng Bank said Wednesday that it has no plan to change its dividend policy.
"A dividend yield strategy in Hong Kong is getting attractive, especially from a global perspective," said Linus Yip, First Shanghai Securities strategist. "When other regions face payout uncertainties, some long-term funds that are seeking stable income payments might move their capital here."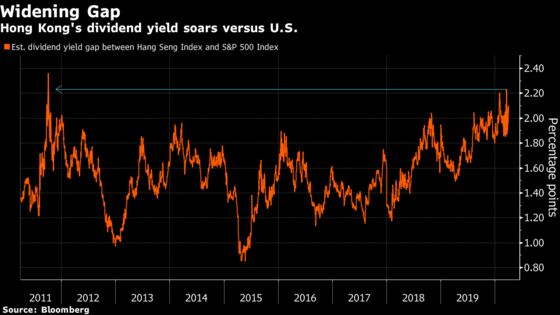 The payout rate for companies on the Hang Seng gauge is at about 46%, compared to a low of 31% in 2015, according to data compiled by Bloomberg. While the gauge just posted its worst quarterly loss since that year and traded at a more than three-year low on March 23, dividend futures on the index fell at a slower pace.
It means the Hang Seng Index yields on average near the most in a decade, with the gap to S&P 500 dividends touching the widest since 2011. That's even as the payout ratio is higher in the U.S. at 51%, and it's a whopping 62% for the Euro Stoxx 50 Index.
To be sure, stock investors haven't necessarily rewarded dividend-paying firms in the past few months. An index tracking high-yielding stocks in Hong Kong has lost 20% this year, underperforming the benchmark. It's trading near the lowest level relative to the Hang Seng index since the 2008 global financial crisis.
Analysts have lowered 2020 profit projections since the beginning of the year, predicting a 13% contraction in earnings for Hang Seng companies on average. But despite the subdued outlook, at least two thirds of the index's 50 members are expected to boost this year's payout ratio, according to data compiled by Bloomberg.
The dividend trade and the city's low valuations have attracted buyers across the border in mainland China, who purchased Hong Kong stocks at record pace in the first quarter, according to Morgan Stanley strategists including Laura Wang.
"Banks are the favorite southbound flow destination," the analysts wrote in a report dated Sunday. "The pursuit for stable dividend payout and cash payment plays an important role behind the investment decision."