Hong Kong Quietly Flips Into World's Best Place for Equity Bulls
(Bloomberg) -- Hong Kong's equity market has staged quite the rebound this month, laboring along slowly to become the world's star performer.
Resilient to caution in China's markets and a tech rout that's slammed shares in the U.S., the Hang Seng Index is headed for a 6.8 percent gain in November, beating every other stock benchmark and surging ahead of the MSCI All-Country World Index by the widest margin since April 2015. Its month-to-month recovery is set to be the largest in more than seven years, following a 10 percent rout in October.
While the rally follows Hong Kong stocks' worst losing streak in 36 years, it stands out against shares in China and in the U.S., two markets which have wielded significant influence on sentiment in the city this year. Improving momentum for Tencent Holdings Ltd. has also helped, contributing to more than a fifth of all gains for the index. The Internet giant is on course for its best showing versus Apple Inc. on record.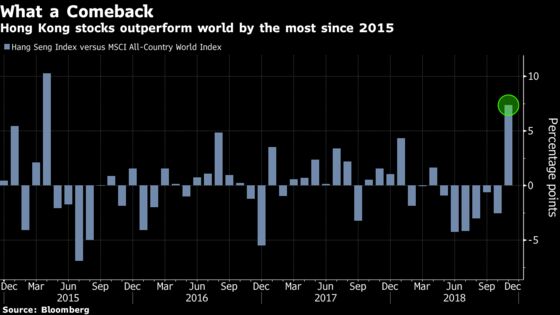 Strategists are getting less bearish on Hong Kong stocks, with many predicting at least muted gains for next year. The Hang Seng Index has held above a key technical level since Monday, another sign that bulls may be taking back control after what's been a painful year. JPMorgan Chase & Co. was less optimistic, saying the city's stocks will be among Asia's worst in 2019.
The Hang Seng Index rose 1.3 percent Wednesday, closing at an eight-week high. Technology companies led the advance, with Sunny Optical Technology Group Co., Tencent and AAC Technologies Holdings Inc. all climbing at least 2.5 percent.