Hong Kong Oil ETF's Broker Refuses to Let It Buy Futures
(Bloomberg) -- The manager of a $500 million oil exchange-traded fund said its broker refused to let it increase holdings of crude futures, a sign of continued risk aversion in global oil markets after last month's historic plunge below zero.
As a result of the broker's ultimatum, the Samsung S&P GSCI Crude Oil ER Futures ETF will halt issuance of new shares starting Monday. The Hong Kong-traded fund also bought put options to protect against negative oil prices and will adjust its existing futures positions, moving from a 100% weighting in September West Texas Intermediate contracts to an equal weighting in September, October and December.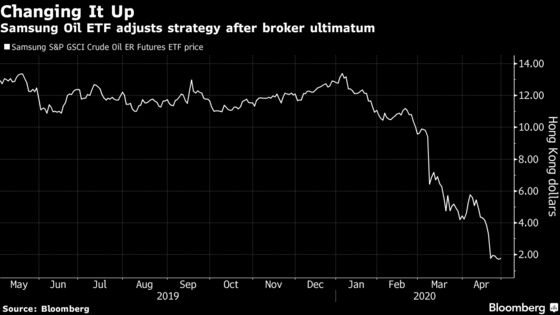 Samsung Asset Management (Hong Kong) Ltd., which disclosed the moves in a filing to the Hong Kong stock exchange, said it's in "active discussions" to find a new broker. It didn't disclose the name of the existing one.
Unprecedented oil-market volatility has wreaked havoc on ETFs and other products designed to give investors an easy way to bet on the direction of crude prices. The Samsung ETF and the $3.5 billion U.S. Oil Fund, which trades in New York, are among those that have upended their strategies to reduce the risk of getting wiped out by another plunge below zero.
While the moves may help protect existing investors, they've introduced new layers of complexity and may cause the funds to diverge from their original goal of simply tracking front-month oil futures.
The Samsung ETF's announcement will likely be closely watched by oil traders given its moves can impact prices. The fund contributed to a sell-off in June WTI futures last month after dumping its entire holdings to buy September contracts.
WTI June futures fell 6% in early trading on Monday, while September contracts dropped 3%.
In its filing on Sunday, Samsung Asset said the latest changes are "in good faith and in the best interests of the unit holders" but have made it "impracticable" to meet the fund's original investment objective. It repeated a warning that in a "worst case scenario," investors could lose all their money.
Here are some further details from the filing:
The fund will start adjusting its futures positions after the market close in Hong Kong on May 4 and the process will take "at most" five trading days, subject to

market conditions

.
On May 1, the fund purchased 6,750 put options on September WTI futures. Samsung Asset said failure to do so would have potentially caused the fund's broker to liquidate some or all of the fund's futures positions "without giving the manager sufficient time to make any alternative arrangements."
Investors should "exercise caution" because the fund may trade at a larger premium or discount as a result of the suspension of new issuance.
Samsung Asset expects that secondary market trading in the ETF and the redemption of units will continue.