Hong Kong Exits Top Three Global IPO Venues as China Clamps Down
(Bloomberg) -- Hong Kong is no longer in the top three listing venues globally as a widening crackdown by China on a vast range of industries hits investor sentiment and share prices.
Initial public offerings in the Asian financial hub have raised $37.8 billion so far in 2021, behind both the Nasdaq and New York Stock Exchange as well as Shanghai, data compiled by Bloomberg show. 
It marks a drop in ranking from the first half, when the city came third with $27.6 billion in proceeds. Shanghai has since pulled ahead, with $45.6 billion raised through first-time share sales year-to-date, the data show. Last year Hong Kong was among the top three IPO exchanges worldwide.
IPOs have dried up in Hong Kong since the summer as President Xi Jinping's push to align companies with his vision of "common prosperity" caused many firms to delay listing plans. The regulatory overhaul has also hit the local stock market hard, with the Hang Seng China Enterprises Index becoming the worst performer globally.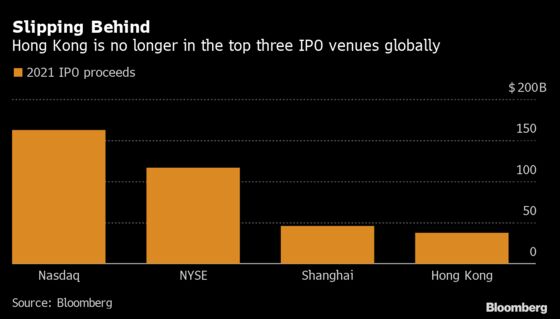 The first half of the year saw record levels of equity capital markets activity globally, with Hong Kong no exception. Thanks to the first six months, 2021's IPO haul in the city is still the highest ever for this period.
Activity, however, slowed sharply in the third quarter with just $6.2 billion raised, the lowest since the start of the pandemic. And recent IPOs have either had to cut back their size or scrap the listing entirely. Those firms that have gone public since August have all dropped from their offer prices.
On Friday logistics firm ANE (Cayman) Inc. launched an IPO that could raise as much as $174 million, far lower than the initial target of about $500 million, signaling a push back from investors.
Shanghai meanwhile is set to host what could potentially be the world's biggest IPO of the year. Swiss seed and fertilizer business Syngenta Group is targeting proceeds of 65 billion yuan ($10.2 billion) in its listing on the Nasdaq-style Star Board.
To be sure billion-dollar-plus IPOs are lined up for the fourth quarter in Hong Kong as well, if the market doesn't cause them to be delayed. China's largest artificial intelligence firm SenseTime Group Inc. could raise at least $2 billion in its offering, Bloomberg News has reported.