Hong Kong Boosted By Triple-Short Covering Moment
(Bloomberg) -- Hong Kong is experiencing a period of triple-short covering that's helping drive stocks higher despite headwinds in the local economy, according to Jefferies Financial Group Inc.
Improving sentiment in a trio of markets -- the yuan, interest rates and initial public offerings -- has left investors with short positions in equities forced to cover, strategist Sean Darby wrote in a note Monday.
Months of political unrest have pushed the city into recession, yet equities have held their ground with the Hang Seng China Enterprises Index of mainland China shares listed in the city clawing back its losses since bottoming out in August. The gauge climbed Monday, and has risen almost 2% so far this year.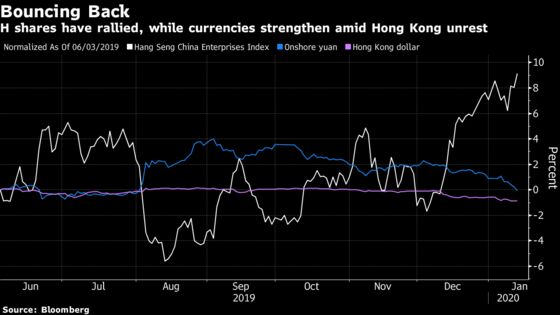 "While domestic political issues are still present, the shift in currency and interest-rate markets is overwhelming any pessimism over the economy," Darby wrote. "The China H-share index is by and large the biggest beneficiary," thanks in part to its sensitivity to moves in the yuan.
The three Hong Kong factors which have surprised investors according to Jefferies are:
A stronger yuan as the U.S. and China closes in on a phase-one trade deal, cooling earlier expectations of a depreciation
A stronger Hong Kong dollar thanks to inflows from the U.S.-H.K. rate differential. The HIBOR-LIBOR spread has reached its widest since the 1997 Asia financial crisis on Federal Reserve moves that have pushed U.S. rates lower than Hong Kong's
A revival in initial public offerings in thanks to the popularity of dual-

listed shares

, especially Alibaba Group Holding Ltd.'s successful secondary listing
Darby suggests investors look for A shares sensitive to the onshore yuan, including the China airlines, and H shares correlated to HIBOR, namely China financials.
The H share index overall is "not overbought on valuation or risk while neutral on momentum" said Darby, who remains bullish on the gauge.
MSCI Asia Pacific Index ex-Japan up 0.5%
Hong Kong's Hang Seng Index up 0.8%; Hang Seng China Enterprises up 1%; Shanghai Composite little changed; CSI 300 up 0.3%
Taiwan's Taiex index up 0.5%
South Korea's Kospi index up 0.7%; Kospi 200 up 0.6%
Australia's S&P/ASX 200 down 0.5%; New Zealand's S&P/NZX 50 little changed
India's S&P BSE Sensex Index up 0.6%; NSE Nifty 50 up 0.5%
Singapore's Straits Times Index little changed; Malaysia's KLCI down 0.2%; Jakarta Composite little changed; Thailand's SET up 0.4%; Vietnam's VN Index little changed
S&P 500 e-mini futures up 0.3% after index closed down 0.3% in last session