Holiday Trash Surge Makes Matters Worse for Struggling Recyclers
(Bloomberg) -- Americans generate 25 percent more trash during the holiday season and, historically, that's been a gift to the companies that haul it away and sell it to recycling processors overseas.
Not anymore. Ever since China banned imports of what's called contaminated recycling -- paper mixed with plastic, for example, or a greasy pizza box -- the waste haulers have had to accept much lower prices for their material or send it to landfills.
The largest U.S. waste haulers, including Republic Services, Waste Management Inc. and Waste Connections Inc., forecast a decline of at least $500 million combined in recycling profits this year. "Recycled commodity values dropped in half and what that means for our company is that about $150 million of profit headwind a year," said Donald Slager, chief executive officer of Republic Services Inc., the second-largest U.S. waste hauler.
"Think about all the family gatherings, food waste, Christmas shopping, gift giving," Slager said. "Everyone buys something in a box that is shipped to their house and wrapped up with more paper. These gifts have layers and layers of paper fiber, but some is recyclable and some isn't."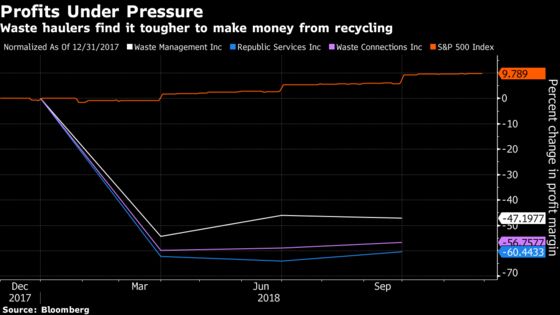 When foil wrapping, tape, ribbons and bows get combined with recyclable paper, it can all end up in the landfill. Dirty plastic utensils and plastic trash bags full of paper can also contaminate a recycling bin, jeopardizing thousands of tons of otherwise recyclable content.
Contamination rates have spiked to 30 percent up from a historical rate of 10 percent and, Slager says, the related economic losses could make it harder for companies to invest in recycling infrastructure.
"We're asking consumers to spend a few more minutes learning how to do it right," he said. "If contamination continues to grow, we're going to be fighting a losing battle."