History Suggests January May Be the Time to Short Dollar-Yen
(Bloomberg) -- For traders seeking a seasonal winner among major currencies, betting on dollar losses versus the yen in January could be the way to go, according to Karl Steiner at Swedish bank SEB AB.
Traders who placed that wager each January since 2009 posted gains in eight of the past 11 years, and if the pattern holds, any dollar rally could be tempered as 2020 gets underway.
In general, at the beginning of the year, investors "are selling dollars and buying other currencies to put on new positions, which could explain a weaker dollar," Steiner, SEB's chief quantitative FX strategist, said by phone Thursday.
The dollar-yen rate is the most liquid in a basket of three currency pairs that SEB identifies. It also includes bets on the euro weakening against the Norwegian krone, and on the krone strengthening versus the Swedish krona. The basket has delivered a five-year risk-adjusted return of 5%, Steiner wrote in a report.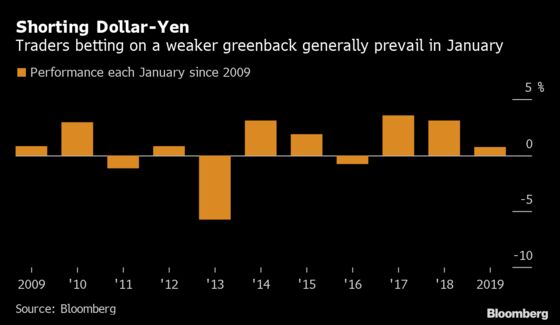 Within the grouping, traders shorting dollar-yen gained 1.7% in January on average for the past five years, while the other, less liquid, pairs each logged 2.6% returns, the report said.
The bank chose the currency combinations in part for diversification, Steiner said. The Nordic currencies often weaken when risk appetite diminishes, while the yen tends to strengthen during such periods. Those attributes were on display in January 2014, when investors gained 3.2% on dollar-yen shorts, but posted losses on the other wagers, according to the report.
The dollar was little changed at 109.31 yen at 8:14 a.m. Friday in New York.
The group's quantitative system analyzes seasonal patterns in exchange rates to gauge performance -- part of a monthly screening of all Group-of-10 currency crosses. It's been using the approach to make currency recommendations for each month since August 2018.
The so-called monthly seasonality basket is up in 10 of 12 months this year with gains of 7.5%, Steiner wrote.