History Backs Buying 8% Dip in Jaguar Owner's Stock
(Bloomberg) -- Shares of Tata Motors Ltd., the Indian owner of Jaguar Land Rover, historically tend to bounce back sharply after hitting big lows, data compiled by Bloomberg show.
Investors who bought Tata Motors every time the stock dropped 8% or more -- as it did on Tuesday -- got an average return of 7.23% in the following 30 trading days, according to the analysis. The shares rebounded within the next 30 trading days in nine of the 15 times they slumped more than 8% over the past five years.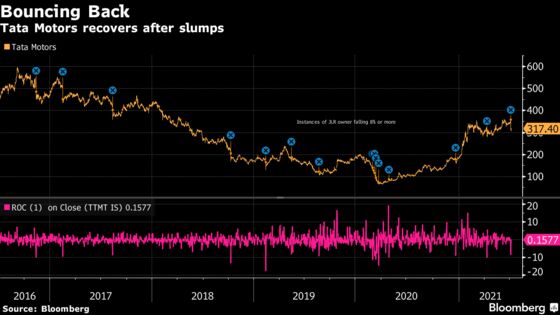 Tata Motors slid 8.4% Tuesday in Mumbai, its biggest drop in almost three months, and was little changed Wednesday. The shares slumped after Jaguar, the British luxury carmaker, warned sales will be further crimped by a global semiconductor shortage, and deliveries in the second quarter could be be 50% worse than initially thought.
Jaguar Land Rover is not expecting any "significant" launches to be delayed due to the semiconductor shortage, Chief Financial Officer Adrian Mardell said in an investor call on Wednesday. The British luxury carmaker is working with suppliers and chip manufacturers to increase the visibility and the control of chip supply for its vehicles, he said. Its second quarter cash position is much worse than expected because the wholesales were 50% lower than anticipated.
"We're doing everything possible to mitigate the impact including prioritizing production of higher margin vehicles for the chip supply available as well as making chip and product specification changes where possible, so we are looking to change features on vehicles," Mardell said.