Share Prices Outperform Despite Higher Labor Costs
(Bloomberg) -- Companies like Amazon.com Inc. are on a hiring spree and wages are surging, so the old rules say it's time to worry about the effect on profits. Well, add that to the list of rules broken during this historic equities run.
A Goldman Sachs Group Inc. basket of S&P 500 stocks with the highest labor costs -- which strips out any industry bias -- is beating low-cost counterparts by 7 percentage points this quarter, the best showing since the data began in 2010. 
While gleaning any message from stock prices isn't without risk, strategists at firms like Goldman have models to decipher the market's views on labor costs. As the thinking goes, when wages spike, companies that spend a higher share of their revenues to cover payrolls, such as Chipotle Mexican Grill Inc. and HCA Healthcare Inc., are more vulnerable.
Yet despite some hand wringing ahead of Friday's monthly payrolls, investors aren't convinced wage pressures are a preeminent threat for companies, or at least not large caps.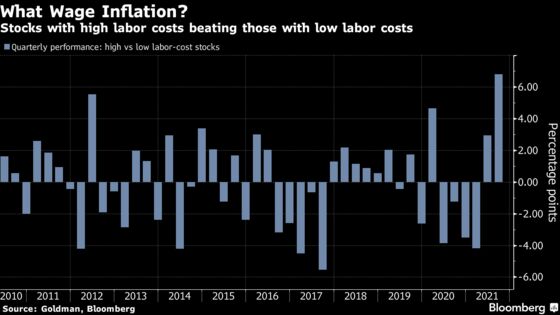 Wage pressure may eventually turn into a pressing problem for companies, but for now investors are looking toward other indicators. Some point to the buoyant economy that allows firms to pass on higher costs to end users. Other link rising employee pay to more spending power. 
"It's not that scarce labor availability and wage inflation don't exist and that they are not hurting these companies," said Lawrence Creatura, a fund manager at PRSPCTV Capital LLC. "But the companies are overcoming those cost pressures because the top line is growing faster."
More broadly, stocks have brushed aside inflation fears that have rattled the bond market, with the S&P 500 rallying 20% this year. Equity bulls are taking comfort in the fact that companies have ridden the wave of worries to record profits. 
Helping shelter companies from wage shocks are technology innovations that have spurred a shift in business focus away from labor. That, in turn, has boosted productivity, making earnings less leveraged to wage swings. 
In fact, the S&P 500 is 70% less labor intensive than in the 1980s, data compiled by Bank of America Corp. showed. Thirty-five years ago, it took roughly eight workers to generate $1 million of sales. Now, it's done with only two employees.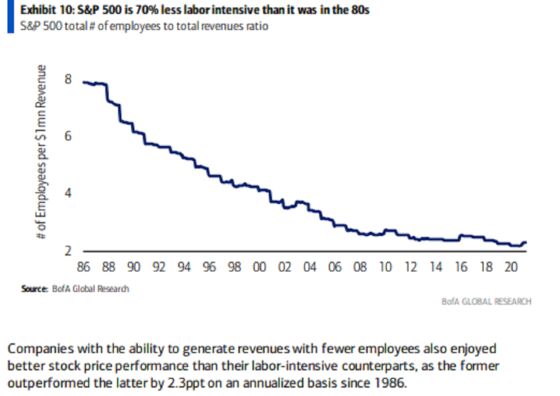 Wage growth has become a concern as traders watched the Covid-19 pandemic disrupt the labor market and supply chain, fueling cost hikes in everything from computer chips to commodities. According to Goldman estimates earlier this year, an increase of 100 basis points in wage growth likely amounts to a 1% reduction in company profits. 
David Kotok, chief investment officer at Cumberland Advisors, says his firm is preparing for a disappointing third quarter, putting more money into cash and defensive shares like health care.  
"We don't know what the next couple of months' labor force reports will reveal. But we don't like the anecdotes we are seeing," Kotok said. "We are collecting them from around the nation daily and they are not a pretty picture."  
Yet for now, angst over wage pressure is hard to find in the ranks of stock winners and losers. The basket of 50 stocks with high labor costs is up almost 7% this quarter, with two-thirds of the members rising. By contrast, the low-cost basket, tracking the likes of Discovery Inc. and Western Digital Corp., is flat with more than half the members mired in losses. 
To be sure, the outperformance in the high-cost basket follows a prolonged stretch of subpar returns, where the group trailed for four quarters in a row through March. Still, the snapback during the heightened anxiety over inflation is a sign of faith in the capability of the large-cap world to absorb any hit to profit margins, according to Mike Bailey, director of research at FBB Capital Partners.
"You have seen that pattern where there has been some upward wage pressure and companies generally have pricing power," Bailey said. "As long as that iron triangle is in place, investors are happy."