High-Yield Bond Funds See Biggest Inflow Since December 2016
(Bloomberg) -- Corporate-bond funds saw inflows this week in another sign credit markets are improving following a selloff in December.
U.S. high-yield funds saw an inflow of $3.28 billion in the week ended Jan. 16, the biggest net increase since December 2016, Lipper data show. This followed an inflow of $1.05 billion last week.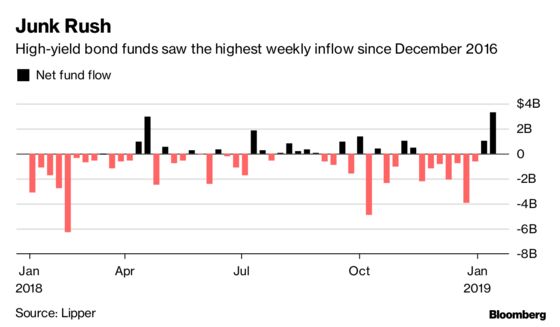 U.S. junk bonds are on track for the best January in years, with a 3.45 percent return already this month. A dovish Federal Reserve, steady economic growth and lack of issuance are boosting the appeal of this market for fixed income investors, following a steep decline in prices at the end of 2018.
"There's a decent bid for things that got beat up the most over the last month or two," said Zachary Chavis, portfolio manager at Sage Advisory Services, said in a telephone interview on Wednesday.
Investment-grade corporate bond funds got the first inflow in eight weeks. The high-grade funds saw a influx of $913 million for the weekly reporting period ended Jan. 16, according to Lipper, following last week's outflow of $1.1 billion. The week before that, investors pulled out $4.5 billion, the most since December 2015.
U.S. leveraged loan funds saw $943 million of outflows in the week ended Jan. 16, compared to a $327 million outflow the week before. The outflow included $789 million from mutual funds and $154 million from ETFs, according to Lipper.