Europe's High-Yield Bond Market is Cheap, But May Not Be Cheap Enough
(Bloomberg) -- Europe's speculative-grade bond market is a lot cheaper after a widespread selloff last year but not adequate enough to cover a potential downturn in the credit cycle, according to fund managers.
Spreads on Europe's high-yield companies are trading near levels that existed in early 2016 due to concerns about economic growth, with an end to the European Central Bank's bond purchase program also expected to crimp liquidity in the broader market.
"High-yield has cheapened but we're not being paid to deal with a default cycle," Justin Jewell, who helps manage about $7.8 billion as co-head of global leveraged finance at BlueBay Asset Management. "We're being paid for a bit of volatility and a bit of credit weakness."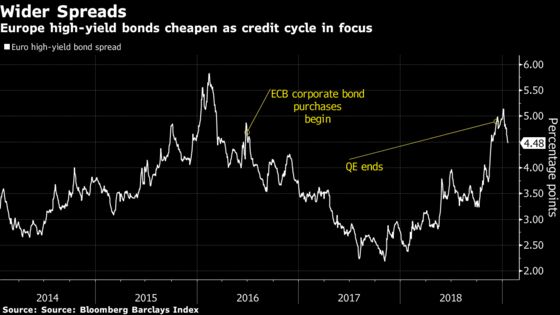 The market rounded out 2018 as one of the worst on record, and has since rallied to pare some of December's losses thanks to a lack of primary supply and perceptions that December's moves were overblown.
"We expect to continue to see idiosyncratic risks in high-yield and it seems everyone is waiting for the clearance of economic developments before regaining some certainty," said Tatjana Greil Castro, a portfolio manager at Muzinich & Co Ltd., which manages $30.8 billion of assets as of the end of 2018.
For Greil Castro, it's also a question of whether the returns are commensurate with the risks the investment entails. Investors may no longer need to reach that far for risk to get returns, she said about the high-yield market. The manager has cut her portfolio's exposure to 25 percent from under 40 percent a year ago.
"Unless you believe you are likely to miss out on a rally, you don't need to reach for risk," said Greil Castro. She added that Muznich remains involved in the high-yield market but mainly in shorter-dated double B names.
The wary tone may have a bearing on selling new debt in the primary market.
Selective credit choices, particularly regarding leveraged buyout deals will be imperative, BlueBay's Jewell said, and recommended going back to basics.
"I think the highly levered companies with heavily adjusted EBITDA will be a tough sell this year, said Jewell. "In terms of investing in leveraged buyouts going forward, it's all about Credit 101."
Europe's investor base showed caution last year by pushing back on unpalatable deals. This doesn't bode well for banks underwriting euro and sterling-denominated M&A deals this year, as appetite and depth may start to wane. The next big LBO debt financing heading to Europe's shores will be the $10.2 billion of loans and bonds denominated in euros and dollars for the buyout of Johnson Controls' Power Solutions business.