High-Flying Taiwan Stocks Set for Record Amid Tech Rebound
(Bloomberg) -- One of Asia's top-performing stock markets flirted with a record high, thanks to a global rebound in technology shares and enthusiasm from retail investors.
Taiwan's Taiex Index rose as much as 0.5% before paring gains to 0.1% as of Friday's close, boosted by MediaTek Inc. The benchmark is up almost 22% so far this year, poised for a third annual gain and outperforming most Asian peers.
A sector rotation to Asia's hardware technology stocks has lifted the island's chipmakers this year despite global supply-chain disruptions. Retail enthusiasm has supported the market as mom-and-pop investors ramped up their leveraged bets amid the stellar rally. The level of outstanding margin debt has risen to about NT$281 billion ($10.1 billion), approaching peak levels set in July.
 "Taiwan stocks may rise further next year due to strong economic performance, better virus controls and Taiwan's key role in the global supply chain," said Li Fang-kuo, chairman of President Capital Management. The gauge's recent outperformance was due to "companies' year-end window dressing for valuations and foreign stock inflows."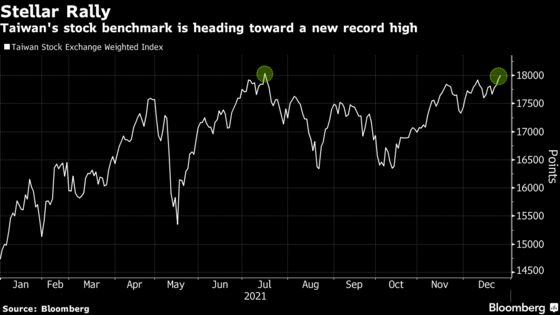 The market has rebounded since suffering a technical correction in May amid concerns over the pandemic and the global selloff in tech shares, despite foreign capital outflows that totaled $17.7 billion this year through Thursday.
Ample funds, strong fundamentals and supportive policies this year have boosted Taiwanese stocks, said Paul Cheng, advisory president at MasterLink Securities Investment. "We expect the strong momentum to continue."