Hidden Fear Gauge Reveals Stock Euphoria -- and Late-Cycle Risk
(Bloomberg) -- Worrywarts on Wall Street have gone into hiding.
As the S&P 500 flirts with record highs and volatility cruises closer to historic lows, an overlooked gauge of stock-market fear is flashing a bullish signal: shares are swinging together less and less.
Implied correlation between the 50 largest members of the S&P 500 is near the lowest in at least ten months. Three-month realized fluctuations have fallen back to January levels, while a one-month metric is at its bottom tenth percentile since 2012.
Investors are slicing and dicing equities guided by their micro features, from corporate earnings to regulation, while tuning out headline noise generated by gyrations in global trade, government bonds and emerging markets.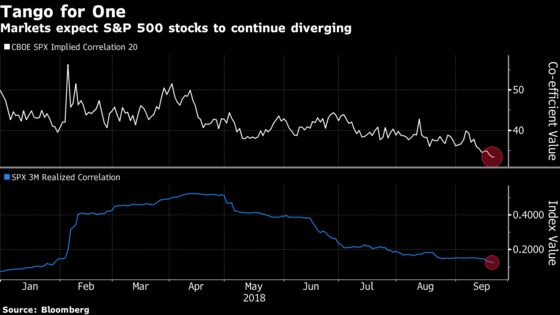 "When everything is good, realized correlation tends to fade, people are rotating into and out of stocks and sectors," says Michael Purves, chief global strategist at Weeden & Co. LP. "Correlation would travel higher with volatility spikes when people throw the baby out with the bath water -- they don't discriminate."
Expectations in options markets that stocks won't stage in-tandem moves anytime soon means investors may be caught off-guard by a reversal in sentiment.
"Low correlation among index constituents is a late-cycle sign," says Yannis Couletsis, director at volatility hedge fund Credence Capital Management Ltd., who expects bets on falling stock links to remain profitable through 2019 or 2020.
"Markets don't just crash from their all-time highs, they gradually weaken first. This translates to individual names or sectors not all performing similarly during the latest phase of a market rally."
The rotation of capital amid periodic weaknesses among sectors -- from tech stocks, banks to small caps -- continues to fuel this year's rally, capping index correlations and volatility, in a replay of 2017's bullish dynamics.
Optimists find plenty of reasons for cheer.
Investors are drilling down on corporate fundamentals. U.S. tax reform is crowning relative winners and losers across stocks and sectors, while the boom in mergers and acquisitions activity is separating potential targets from acquirers.
"While low correlation often indicates complacency and corresponds with low volatility -- and may be indicative of it -- the pick-up in sector dispersion" is due to traders separating the wheat from the chaff, says Peter Cecchini, global chief market strategist at Cantor Fitzgerald LP.
The lagging performance of real estate stocks on interest-rate pain and industrials beaten up by tensions in commerce illustrate the trend, he says.
The current regime is a boon for stock-pickers and a growing breed of volatility traders on Wall Street.
Hedge funds pursuing the long-short investing strategy in North America are up 6 percent this year, according to data from Eurekahedge. In August, a typically volatile month unfriendly to equity investors, they notched a 2 percent gain. Dispersion trades put on by volatility-arbitrage funds are also booming in 2018, thanks to falling equity correlations.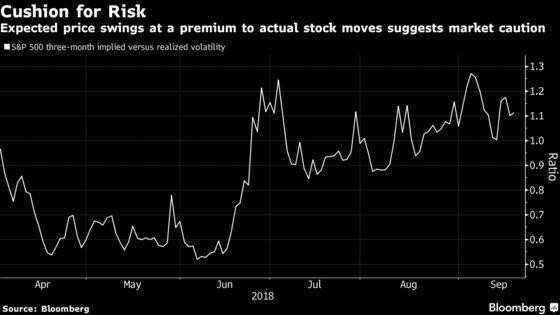 Still, the current regime of muffled volatility and low correlation may be too much of a good thing, fed by unabashed enthusiasm for America Inc.
"Low vol and low correlation within the S&P 500 may actually be a product of a rotation into U.S. equities because of global risks," said Cecchini. "Is that complacency in U.S. equities justified?"
For now, Purves at Weeden & Co. is sanguine.
Implied equity-price swings are trading at a premium to realized moves, and relative to historic correlations, he notes. In other words, traders have a built-in cushion to help protect them from an uptick in volatility from recent levels.
"It is one more argument that there's not a lot of complacency in the market, and people are being relatively prudent."