Here's Who May Have Been Crushed in Biogen's $18 Billion Plunge
(Bloomberg) -- Several large hedge funds are likely reeling Thursday after a failed study in Alzheimer's disease erased more than $18 billion from Biogen Inc.'s market value.
While Biogen's drug had been viewed as a high-risk, high-reward gamble for the drugmaker and its investors, the failed futility analysis came a year before results were expected from the late-stage trial. That 2020 event was seen as a binary catalyst for the stock, and it's unlikely that shareholders made big changes to their disclosed positions in the first few months of this year.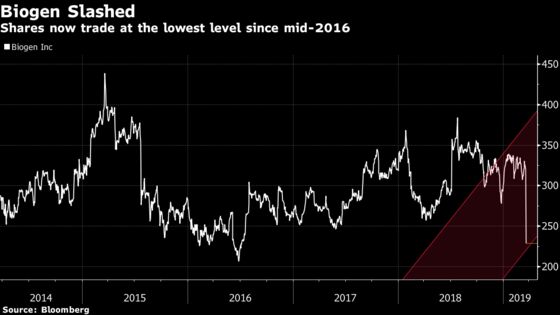 Based on filings as of Dec. 31, AQR Capital Management LLC likely got hurt the most among hedge funds. The Greenwich, Connecticut-based firm, with $196 billion under management, has been steadily boosting its stake since 2016, owning 3.2 million shares as of Dec. 31, 13F filings show. Other funds that added to their already-large positions into the data included Arrowstreet Capital LP and Renaissance Technologies LLC.
New York-based OrbiMed Advisors LLC probably also got hit. Biogen was the largest holding in the OrbiMed Biotech Growth Trust, accounting for 11.7 percent of total investments as of Jan. 31, its latest fact sheet shows. The fund had total assets of about 405 million pounds (about $530 million) under management at the time of the filing.
A number of investors contacted by Bloomberg News didn't immediately respond to requests for comment.
More skittish holders who fled the stock ahead of the results are probably feeling relieved. At least six investors with more than 30,000 shares sold all of their Biogen shares in the fourth quarter, according to data compiled by Bloomberg. Empyrean Capital Partners sold the most shares among hedge funds and exited its position completely, followed by Millennium Management LLC, which trimmed its position by 190 thousand shares, 13F filings show.