Czech Stocks Rally to World's Top as Rate Hikes Lift Banks
(Bloomberg) -- As global equity markets brace for the looming end of cheap money, an aggressive campaign of interest-rate increases is well underway in the Czech Republic. And investors in local stocks love it.
The central European country's PX equity index is one of the best performers in the world this year, returning 42% including dividends. The rally accelerated as Czech policy makers raised borrowing costs by 250 basis points between June and November and signaled that more tightening was needed to fight inflation.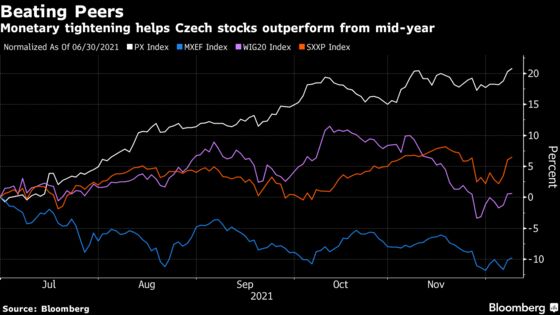 While rate hikes typically hurt equities by making credit more expensive and damping economic growth, they are a major driver of profits at Czech retail banks, which dominate Prague's small and somewhat sleepy exchange. Erste Group Bank AG, Komercni Banka AS and Moneta Money Bank AS have a combined 46% weighting in the main index of just 13 stocks, and they have all outperformed the Stoxx Europe 600 Banks Index in 2021.
"The low level of sector diversification may be seen by some investors as a weakness of the Czech stock index," said Michal Krikava, an equity analyst at KBC Groep NV's Patria Finance AS brokerage in Prague. "But the banks listed on the Prague Stock Exchange do offer some of the best fundamentals among European peers."
Czech lenders stand out with their superior return on equity, robust capital buffers, low share of bad loans and a "relatively stable political environment," he said. Further Czech rate hikes will likely boost profits in the industry to pre-pandemic levels next year, according to Krikava. 
Another Czech star performer is power producer CEZ AS, which accounts for 21% of the benchmark and has returned a total of 64% this year, including dividends. Gunmaker Ceska Zbrojovka Group SE has yielded 74%, the most on the market, after it tapped a surge in U.S. firearms sales with its acquisition of iconic rival Colt Holding.