Here's How to Trade Canadian Stocks Hit by Tax Loss Selling
(Bloomberg) -- 'Tis the season, for investors to look at stocks that may have gotten crushed by tax-loss selling.
The Canadian S&P TSX is down more than 6% year-to-date and has created opportunities for investors to consider several stocks that have probably been hit by tax-loss selling, according to Canaccord Genuity's Canadian Research team.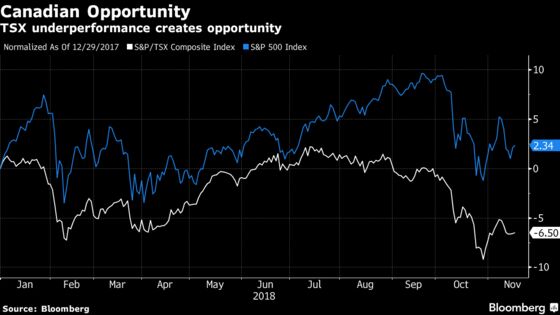 The companies on the list are mainly energy and materials stocks, since the main sectors contributing to the year-to-date decline in the TSX range from materials and energy to consumer discretionary and financials.
READ: Canadian Stocks a 'Huge Contrarian Buy,' BMO's Belski Says
The complete list of Canadian stocks with potential opportunity due to tax-loss related selling, based on their year-to-date underperformance:
Maxar Technologies, -70%
Real Matters, -66%
Crew Energy, -62%
Crescent Point Energy, -48%
Turquoise Hill Resources, -41%
Hudbay Minerals, -40%
Ivanhoe Mines, -38%
Dollarama, -33%
CI Financial, -33%
Baytex Energy, -31%
Bird Construction, -31%
Stuart Olson, -28%
Cogeco Communications, -26%
Goldcorp, -22%
Canadian Natural Resources, -21%
Manulife Financial, -16%
Kinaxis, -12%
Canaccord also highlights 2 switch trades that have emerged from tax-loss selling. The team recommends switching to Secure Energy Services (down 35 percent year-to-date) from Calfrac Energy (fell 7 percent year-to-date). Another potential switch trade is out of Pembina Pipeline (down 2 percent year-to-date) and in to AltaGas (down 45 percent year-to-date).