Here's How to Trade Brazil Assets Overseas on Election Night
(Bloomberg) -- Investors looking to take a position on Brazil after seeing the results of Sunday's presidential election don't have to wait for morning in Sao Paulo.
Exit polls could appear as early as 6 p.m. New York time on Sunday, and conclusive (but not official) results are expected before midnight. Polls published in the past few days showed no candidate likely to get a majority of votes in this first round of balloting, setting the stage for a runoff in late October, probably between far-right lawmaker Jair Bolsonaro and Fernando Haddad of the left-wing Workers' Party. Still, the possibility of an outright win -- which hasn't happened since 1998 -- wasn't completely off the table.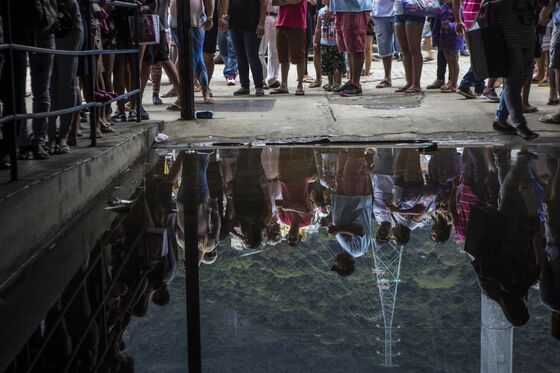 Trading in Brazilian assets is heavily concentrated in the country, but there are some options for investors operating during the South American country's overnight hours.
The first choice would normally be a Japanese exchange-traded fund that tracks the benchmark Ibovespa, but that market is closed for a local holiday. So the next-best option for equity investors might be Singapore's relatively illiquid Xtrackers MSCI Brazil UCITS ETF. Some U.S.-listed ETFs can trade at off hours, though again it may be difficult to find counterparts at that time of day.
Currency traders won't have many ways to bet on the real directly, but Mexico's peso will be trading in Asia and could be used as a rough proxy.
When Europe opens, euro- and pound-denominated bonds issued by the government and big Brazilian companies could be an option for reacting to the election. The world of available ETFs will also expand and there are also global depositary receipts of companies including state-run oil producer Petrobras and miner Vale in Germany.
Follow live coverage of the first round of presidential elections on TOPLive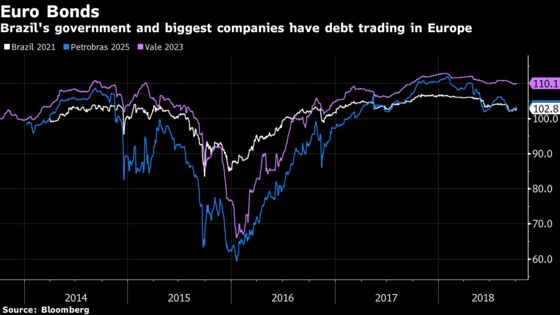 Here's a list of the assets to keep an eye on before Brazil opens for business:
With trading in Brazil's currency restricted to local hours, the main one to watch will be the Mexican peso, which is generally fairly liquid and is often used as a hedge for the real.
Sovereign and Quasi-Sovereign Bonds
Some of Brazil's government dollar-denominated bonds are traded in European exchanges and may see price action. There are also sovereign bonds denominated in euros, and Petrobras has debt both in euros and British pounds. State-owned lenders Banco do Brasil and BNDES also have bonds that will trade before the U.S. market opens. Credit default swap contracts trade all-day long, although liquidity is thinner in late hours. Here's a list:
Brazil 2028 (USD)
Brazil 2037 (USD)
Brazil 2045 (USD)
Brazil 2021 (EUR)
Petrobras 2021 (EUR)
Petrobras 2022 (EUR)
Petrobras 2023 (EUR)
Petrobras 2025 (EUR)
Petrobras 2029 (GBP)
Petrobras 2034 (GBP)
BNDES 2019 (EUR)
Banco do Brasil 2019 (CHF)
Banco do Brasil 2021 (EUR)
Brazil 5-year Credit Default Swap (USD)
Petrobras 5-year Credit Default Swap (USD)
Some of Brazil's large companies with no ties to the government also have euro and pound-denominated debt. Here are the bonds to look out for:
BRF 2022 (EUR)
Vale 2023 (EUR)
Votorantim Cimentos 2021 (EUR)
Votorantim Cimentos 2022 (EUR)
ETFs
There are a few ETFs traded in Asia and Europe that track Brazilian assets. Here are the ones to watch:
Xtrackers MSCI Brazil UCITS ETF (Singapore)
iShares MSCI Brazil UCITS ETF USD Dist (London)
HSBC MSCI BRAZIL UCITS ETF (London)
Lyxor Brazil Ibovespa UCITS ETF (Euronext Paris)
Xtrackers MSCI Brazil UCITS ETF (Germany)
iShares MSCI Brazil ETF (U.S.)
Direxion Daily Brazil Bull 3x Shares (U.S.)
Trading in Brazilian stocks listed on European markets is limited, but these are some depositary receipts to watch of the biggest companies:
Petrobras (Germany)
Petrobras (Gettex)
Vale (Germany)
Vale (European Composite)
Itau Unibanco (Germany)
Banco Bradesco (Germany)
Banco do Brasil (Germany)
Ambev (Germany)