Here's How ETFs With Biggest Facebook Exposure Traded Today
(Bloomberg) -- A six-week old Communication Services Select Sector SPDR Fund just had its worst day ever. A rout in Facebook Inc. is to blame for that.
The exchange-traded fund that has a 22 percent exposure to Facebook, the most among peers, fell 3.8 percent Thursday -- its biggest-ever loss. State Street Corp. created the ETF ahead of S&P Global Inc.'s and MSCI Inc.'s reshuffle of their industry classifications at the end of September, which will affect internet, media and telecom stocks.
Global X Social Media ETF, which counts Facebook as its second-heaviest constituent, declined 3.5 percent on Thursday, the most in four months. Vanguard's Communication Services ETF closed down 1.6 percent on trading volume that was 200 times the 30-day average. The First Trust Dow Jones Internet Index Fund, which is which is 9 percent invested in Facebook, fell 2.3 percent. The iShares U.S. Technology ETF lost 1.5 percent.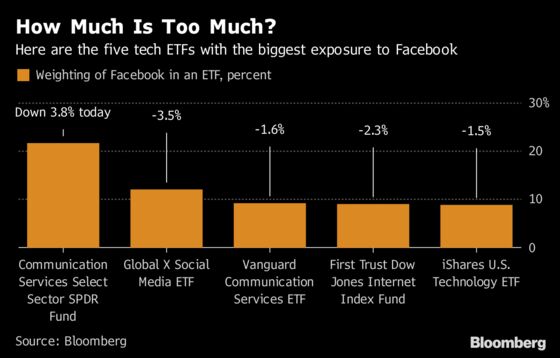 It may come as a surprise that Facebook is not synonymous with momentum, a trend-following strategy that bets winners will keep on winning. Of 20 momentum-focused exchange-traded funds that look across sectors in the U.S. or internationally, only a quarter hold Facebook, data compiled by Bloomberg show. The one that doesn't hold shares of a social media giant is the iShares Edge MSCI USA Momentum ETF. The $9.6 billion funds tracks the performance of 120 stocks, but not Facebook.
"Facebook's latest earnings report and guidance should remind investors that the technology sector is not synonymous with positive momentum," said Holly Framsted, head of U.S. iShares Smart Beta at BlackRock.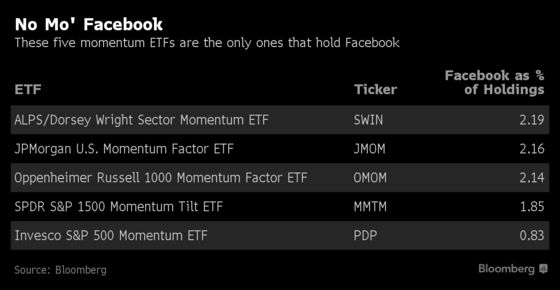 Shares of the social media fell 19 percent on Thursday after its second-quarter sales and user growth forecast disappointed investors.