Here Comes Chinese Stimulus, Back to Save Market Bulls
(Bloomberg) -- The Beijing "put" is back.
China's bid to boost policy stimulus to barricade its domestic economy from the brewing trade war is breathing life into risk assets battered by liquidity and geopolitical angst.
Among the winners: Asian junk bonds, the besieged industrial-metals complex and emerging-market stocks. The MSCI Emerging Market Index is heading toward its first monthly gain since the melt-up euphoria of January.
Bulls can thank the State Council meeting this week that outlined a package of measures to ease the nation's slowdown, ranging from targeted tax cuts to special bonds for infrastructure investment.
"The largest surprise is that the meeting did not mention deleveraging and financial risk control, a centerpiece in China's economy policy since late 2017," Credit Suisse Group AG strategists led by Vincent Chan wrote in a note. "They will be favorable to sectors sensitive to investment demand, like industrials and materials."
Aggressive and broad-based fiscal and monetary easing, for now, isn't on the horizon. But the pro-growth tone signaling a softening of the deleveraging campaign is giving investors the green light to snap up assets sensitive to Chinese liquidity and investment, across equity, debt and commodity markets.
Here's a rundown of markets dancing to the Sino beat.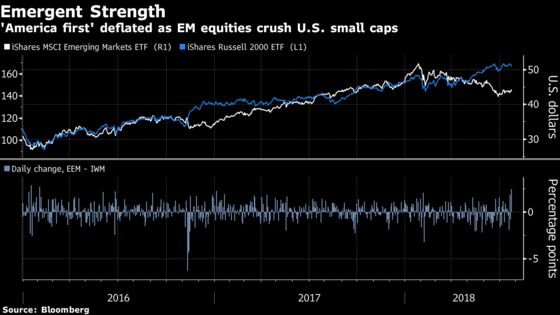 What's more, greed is back. Bloomberg's indicator of buying strength versus selling for the Shanghai Composite Index is in the green again after dropping to a four-month low earlier in the month.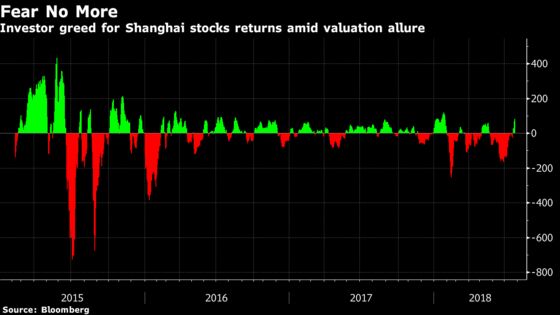 A broader recovery for the asset class could also be in the works, given the dollar's sideways trend over the past month and the tendency for developing-market equities to move in tandem.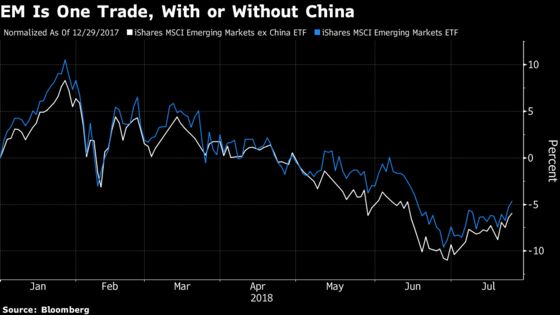 Some of the "old economy" segments of the Chinese equity market have also rebounded strongly in recent sessions. That includes industrials, which carried out the country's credit-fueled growth binge, as well as the banks that facilitated it.
The MSCI China Banks Index has advanced by 7 percent since June 19, while the Global X China Industrials ETF (CHII) has gained 3.2 percent over the same period.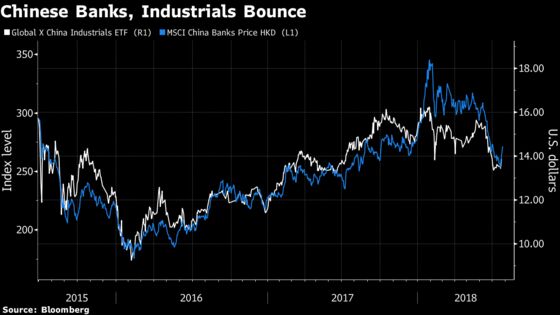 Industrial metals are also rebounding, as sentiment about the investment cycle picks up. Copper, typically viewed as an economic bellwether, continues to flirt with the $6,300 mark after plunging close to a one-year low earlier in the month.
Beijing's signal that that fiscal policy tweaks would have the economy "leaning more on credit expansion is the overarching factor helping to turn around copper," said Erin Browne, head of asset allocation at UBS Asset Management, which manages over $800 billion overall.
Another raw material seen as a front-line casualty in China's growth shift and the brewing trade war -- iron ore -- is also finally catching a break.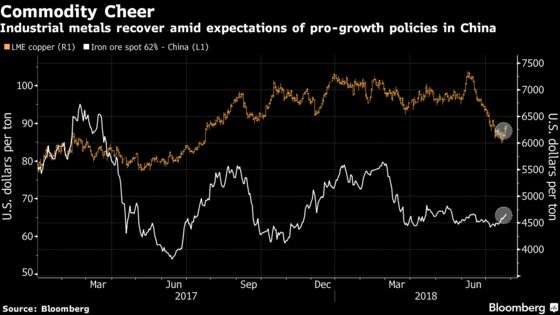 After jumping to a two-year high, risk premiums for speculative-grade bonds in Asia have fallen by about 70 basis points over the past two weeks. The rally has a distinctly Beijing feel, with over half of the issuers in the Bloomberg Barclays Asia High Yield Bond Index hailing from China. Overall, industrial issuers account for 66 percent.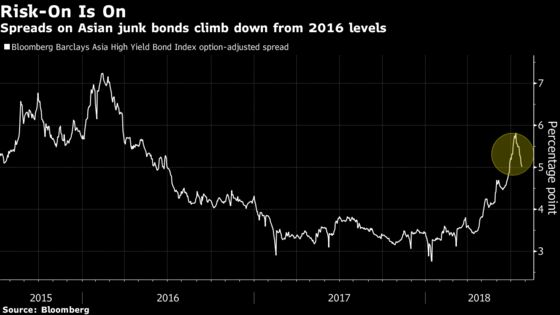 "The deleveraging process needs to be softened and slowed, and the latest development suggests that such adjustments have begun," Wei Yao, China economist at Societe Generale SA in Paris, wrote in a note.
One indicator to watch: gaming revenue in Macau, a bellwether for animal spirits and Chinese liquidity. Share prices for casino operators like MGM Resorts International and Wynn Resorts Ltd. have tended to loosely track the annual change in the sector's financial fortunes. Signs that the Chinese economy is on a firmer footing will likely be accompanied by more high-rollers rolling into Macau.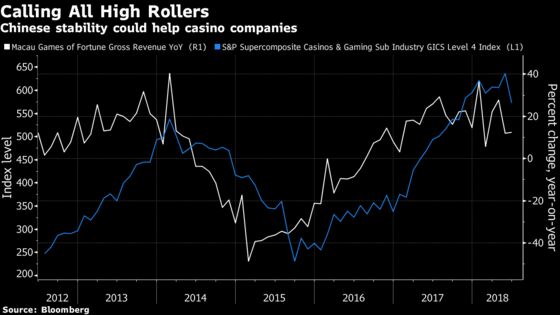 A stimulative policy stance, with deleveraging ostensibly moved to the back-burner, is a movie investors have seen recently. In 2016, policy makers employed this to avert the risk of a hard landing in the world's second-largest economy following the shock yuan devaluation in August 2015. On the surface, it worked, with the ensuing market response now serving as a playbook of sorts for bulls.
Still, with a trade war and elevated domestic leverage, the fear is that a Made-in-China premium will confront risk markets soon enough.
"The danger is that the authorities will pour money into the economy because they either overdo/mishandle the financial sector clean-up or the trade war does much more serious damage to consumer and business sentiment," Diana Choyleva at Endo Economics wrote in a note.