Here Are Three Reasons to Short Australia's Dollar
(Bloomberg) -- Optimism that Australia's dollar has found a bottom may be premature.
The currency looks set to take another leg down as the U.S.-China trade war worsens and the outlook deteriorates for Australia's major export earner iron ore. At the same time, the central bank is predicted to reaffirm its commitment to keeping interest rates at a record low when it meets this week.
While the Aussie is already the worst-performing major currency this year after Sweden's krona, here are three reasons why it may still be one of the juiciest shorts in foreign-exchange markets.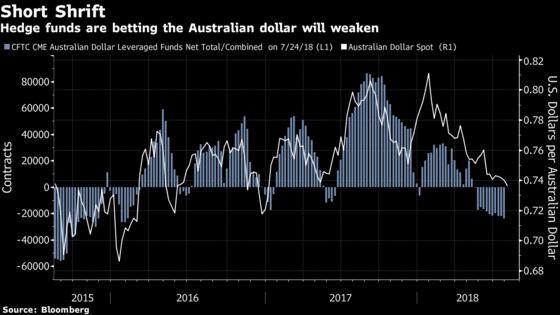 The impact of deteriorating U.S.-China trade relations is poised to ripple around the world and one of the biggest victims will probably be Australia, as the Asian nation is its largest trading partner. The Aussie tumbled as much as 1.4 percent on June 14 when U.S. President Donald Trump said he would confront China "very strongly" over trade and was about to release a list of tariff targets.
Trade tensions look set to worsen further after the Trump administration said last week it was considering whether to increase a proposed tariff on $200 billion of Chinese goods to 25 percent from 10 percent.
Morgan Stanley recommends shorting the Aussie versus the U.S. dollar and yen on "rising protectionist risks." The top forecaster for Australia's dollar, Marcus Wong at CIMB Bank Bhd in Singapore, said escalating global trade tensions mean the worst for the Aussie is yet to come.
Although iron-ore prices have climbed about 6 percent from this year's low to trade around $66 a metric ton, they are only only half the level seen in early 2014. The Department of Industry, Innovation and Science last month slashed its forecasts for the commodity, predicting it will drop to $51.10 next year as China starts to dial back purchases.
The technical outlook for iron ore is also becoming bearish. The resource is approaching its 200 day-moving average for the first time since March, and recent history has shown it frequently falls back after nearing that level.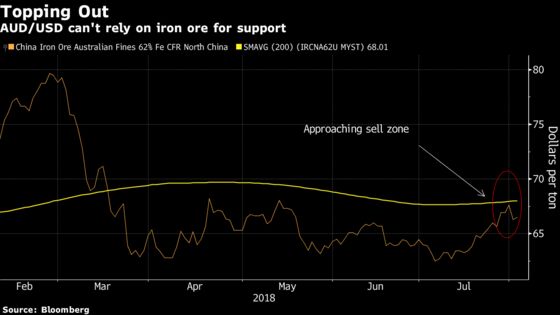 The Reserve Bank of Australia is forecast on Tuesday to keep its cash rate target at a record low 1.5 percent, where it's been for about two years, as it endeavors to breathe life into the nation's sluggish economy. The Federal Reserve in contrast has raised its benchmark seven times since December 2015 and said last week it remains committed to further tightening.
Australia's 10-year bond yields dropped to more than 30 basis points below their U.S. peers at the end of July and the divergence is expected to keep widening. Markets are anticipating the RBA will stay on hold well into 2019, while the Fed is expected to raise rates another two times this year.
Positioning data backs up the gloomy assessment. Hedge funds and other large speculators shifted to a net short position on the Aussie of 23,995 contracts on July 24 -- the biggest bet against the currency in more than two years -- after being net long position as recently as May.
Below are key Asian economic data and events due next week:
Monday, Aug. 6: China balance-of-payments
Tuesday, Aug. 7: RBA cash-rate target; Japan household spending, labor cash earnings and leading index; Philippine CPI; Taiwan CPI and trade balance; China foreign reserves
Wednesday, Aug. 8: RBA Governor Lowe speaks; Japan current-account balance; Philippine trade balance; Bank of Thailand policy decision; China trade data
Thursday, Aug. 9: Japan machine orders, buying of foreign bonds; China PPI/CPI; Philippine GDP
Friday, Aug. 10: RBA Statement on Monetary Policy; Japan PPI/GDP