Here Are the Biggest Losers Since the S&P 500's Record High
(Bloomberg) -- It's been nearly two months since the S&P 500 closed at a record high and the index has lost 8 percent in that time. While technology stocks have borne the brunt of the blame for dragging on the market, the worst performers in the index are a utility and a dental company.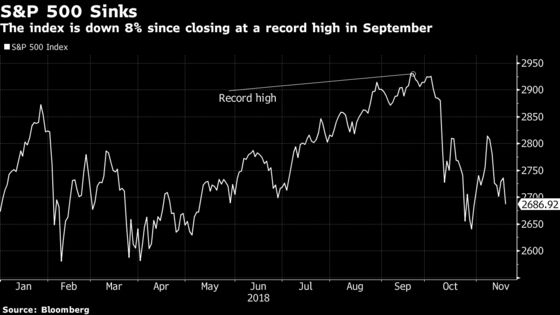 PG&E Corp., facing questions of liability related to California's deadliest wildfires, has seen its market value cut in half this month, while Align Technology Inc. has tumbled 46 percent. Advanced Micro Devices Inc. and Nvidia Corp., among the hottest stocks earlier this year, have slumped amid disappointing forecasts. General Electric Co., Activision Blizzard Inc. and Michael Kors Holdings also made the list.
Here's a look at the companies that have fallen the most since Sept. 20.