Hello Amazon, So Long Crystal City: Builder Sees Old Name Fading
(Bloomberg) -- Hello National Landing. Goodbye Crystal City. Amazon.com Inc.'s arrival won't just create a new name for the area in northern Virginia. It may also kill the old one.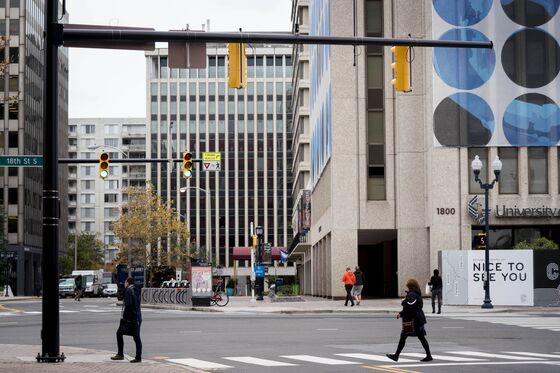 Google searches for "National Landing" surged Tuesday after the tech giant said it will build one of its two new campuses in the previously unheard of community. The new name represents an effort to rebrand Crystal City, an aging Arlington neighborhood that has struggled following an exodus of government tenants. Ultimately, the old label will cease to exist altogether, said Matthew Kelly, chief executive officer of JBG Smith Properties.
"There isn't one naming agency that you go to; it involves the Metro and the Department of Transportation and it involves the neighbors and the neighborhood," said Kelly, whose Arlington-based firm owns much of the space Amazon plans to move into. "Eventually, that name will go away and it will be known as National Landing, but as you know, these things take a little bit of time."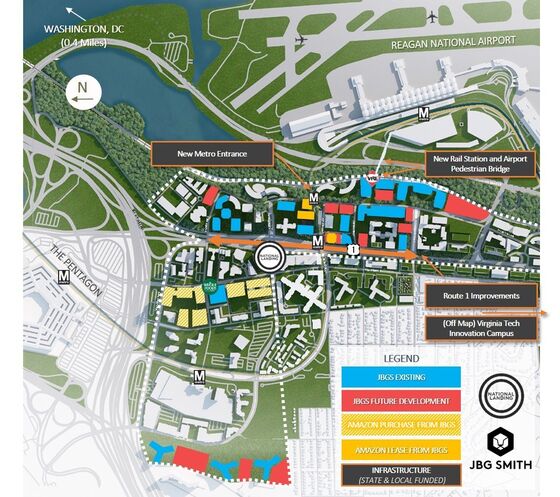 Crystal City, once a home to junkyards and motels, was developed during the 1960s amid an increase in demand for office space and named after the chandelier in the lobby of an early apartment building called Crystal House. The fates of Crystal Drive, Crystal Square and a score of other crystal names remain undetermined.
The community, just across the bridge from Washington, never fully recovered after the exit of the U.S. Patent and Trademark Office and many U.S. Department of Defense workers. When Virginia localities floated the idea for National Landing, which encompasses Crystal City and parts of nearby Pentagon City and Potomac Yard, JBG Smith was happy to oblige.
It wasn't until Monday, while Kelly was at home on a conference call, that he got the word from John Schoettler, Amazon's vice president for real estate. It was finally official: Amazon was coming to Crystal City.
"We really did not know until the very end," Kelly said. "As they were narrowing the number of locations on their side, they were spending more and more time in each of those locations. And so it involved lots of phone calls. There were periods of time where the interactions were daily."
Amazon will pay JBG Smith $294 million to buy two plots of land next to the Pentagon, on which the real estate investment trust will develop seven or eight new office buildings, Kelly said. The tech firm will also rent about 500,000 square feet in three existing properties, though it will probably leave some of that space once the new offices are built, Kelly said. JBG Smith expects to spend about $90 million on renovating two of the leased buildings. No tenants will be forced out as a result of Amazon moving in.
The real estate company intends to develop at least 4,000 apartment units within a half-mile of Amazon's new headquarters, and other developers have plans for thousands more, Kelly said.
"One of the things that the process did for us is that it really shined a spotlight on what we're doing here and our plans to revitalize the neighborhood," he said. "This is a neighborhood that really lacked investment for a very long time."