Hedge Funds Turn Short on Nasdaq Futures While ETFs See Outflows
(Bloomberg) -- Seven weeks into the sell-off in technology stocks, sentiment toward the industry is suffering serious damage.
Evidence is building that investors have fallen out of love with the group -- fast money and retail buyers alike. It's a reversal from the beginning of the year when FANG stars Facebook, Apple, Amazon.com, Netflix and Google were setting records constantly.
"There's a bloodbath," said Matt Maley, equity strategist at Miller Tabak & Co. "Now that we're seeing another downdraft in the group, investors are going to be much less willing to take their weighting in the tech stocks back up to where they stood before October. This will make it tough for the group to regain the levels they saw at the highs."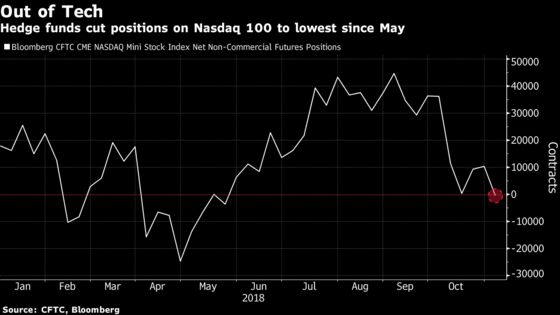 Hedge funds most recently cut net positions on Nasdaq 100 futures to the lowest since May, turning short, according to weekly data from the Commodity Futures Trading Commission. The changes come ahead of a Nov. 15 deadline when many investors can put managers on notice to withdraw money. Coming off the worst month for hedge funds since 2011, the industry is under pressure.
Money is fleeing more retail-oriented products, too. Last week, investors pulled more than $300 million out of tech exchange-traded funds, Bloomberg data show. Although it may seem a relatively paltry number, the outflows came in the wake of inflows to the broader market, with ETFs tracking equities taking in more than $3 billion in aggregate.
Look at a longer time-frame and the concerns start to appear structural. Overall, tech saw $3.1 billion worth of outflows in October, a marked reversal from the "mountainous" $41.3 billion of inflows the sector saw over the previous 21 months through September, according to a Bank of America report citing data from EPFR Global.
Both the Nasdaq 100 Index and S&P 500 fell for a third day Monday, with tech companies leading the way lower. Apple Inc. contributed most to the losses, sinking 5 percent on signs that one of the most important product lines in the tech sector -- the iPhone -- was seeing weak demand. The Philadelphia Stock Exchange Semiconductor Index also took a hit, falling 44. percent.
"If Wall Street got Apple wrong, what else did they get wrong?" said Kim Forrest, senior portfolio manager at Fort Pitt Capital. "That just drips down through tech because FANG was the leader on the way up. It seems to be the leader on the way down."
Apple supplier Lumentum Holdings Inc. cut its second-quarter outlook after one of its largest customers asked to "meaningfully reduce shipments" for previously placed orders. Lumentum didn't name a specific company but Apple is its largest, according to Bloomberg data. Apple also recently told Foxconn Technology Group and Pegatron Corp. to halt plans for additional production lines dedicated to its lower-priced iPhone XR line, according to prior Bloomberg reports.
Lumentum fell a record 33 percent Monday and other Apple suppliers followed suit. Cirrus Logic Inc., Qorvo Inc., and Skyworks Solutions Inc. were all lower by at least 5 percent.
Overall, the Nasdaq 100 index has lost close to $1 trillion in value in the last month and the NYSE FANG+ Index is down nearly 10 percent since Oct. 4, compared with a 6 percent drop for the S&P 500. At the heart of the concern is worry that tech's outsize profit gains won't be sustainable, rising interest rates, and the ongoing trade war with China. None seem to be going away anytime soon.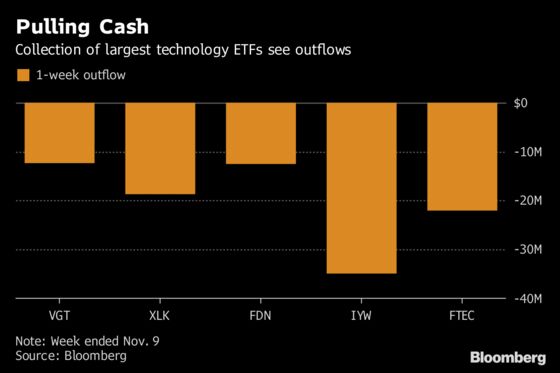 "The tech concern is important because what we're looking for now is what leads the market out of this?" said Quincy Krosby, chief market strategist at Prudential Financial Inc. "If, in fact, we go into the Santa Claus rally, the seasonality of this period which is very positive, which sectors lead us out?"