Hedge Funds That Missed Out Return to Lucrative Danish Bet
(Bloomberg) -- There are few stocks in Denmark that hedge funds enjoy betting against as much as NKT A/S. But for some reason, several of them decided to reduce their short bets just before the company's biggest share-price plunge in 17 years.
Shareholders watched in dismay as the cable maker lost more than a fifth of its market value on Nov. 16. But they weren't alone. It turns out hedge funds had wound down their bets against NKT just as the company was preparing to issue a profit warning and announce it was firing its CEO.
Now, those funds are returning to an old favorite.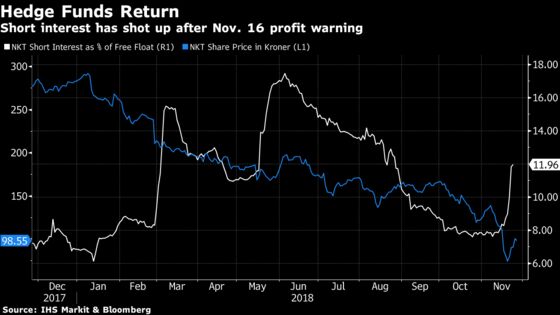 Short interest peaked at more than 17 percent of NKT's stock in June, but fell to less than half that just before the Nov. 16 share-price slump, according to data proved by IHS Markit. Now, short interest has shot back up and is around 12 percent. If investors betting against NKT had maintained their June short positions, they'd have doubled their money. In the event, the made just under $7 million.
Read more about NKT's worst day since 2001
"NKT is a company that's emitting smoke," said Otto Friedrichsen, head of equities at asset manager Formuepleje, which oversees about $11 billion on behalf of its clients. "It's a hedge fund target."
To be sure, funds that wound down their short bets too early still made a lot of money, unlike the company's shareholders. NKT's stock fell 56 percent during the first 10 months of 2018, after six straight years of increases.
"It's a stock that really divides market participants," Friedrichsen said. "It's a classic fight between long and short and it's clear that when looking at 2018, the short sellers have come out on top."