Hedge Funds Take the Lead in Betting on New Brazil Rate Cuts
(Bloomberg) -- Brazilian hedge funds are starting to bet that the combination of subdued inflation, a slow recovery and prospects the government will succeed in overhauling the pension system should prompt the central bank to cut the benchmark interest rate to a new record low.
Legacy Capital Gestao de Recursos Ltda., a newcomer that has been beating its rivals on wagers linked to the optimism around Jair Bolsonaro's election, is one of the shops that say policy makers will likely begin a easing cycle soon. The main trigger for a potential cut of 100 basis points is a clearer outlook for approval of the pension reform, the firm said in a monthly letter to investors.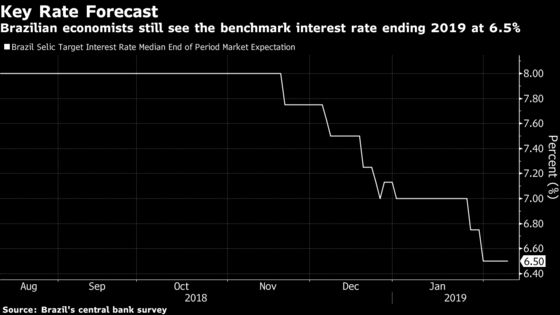 Kapitalo Investimentos, whose 10.5 billion real ($2.8 billion) Zeta Master FI Multimercado fund is one of the top performing hedge funds over the past five years in Brazil, also sees room to bring the so-called Selic rate to 5.5 percent, half of what it was just two years ago.
"Assuming that the foreign exchange rate is stable, an extra dose of stimulus would fit," said Alfredo Binnie, the firm's economist. "If the reform is approved and the Brazilian real strengthens, that argument would be even more compelling."
Though some hedge funds and even a former central bank chief say lower rates are coming, the view is still far from a consensus. The swap rates curve shows traders no longer expect rate cuts in 2019, and economists continue to widely forecast stability for the so-called Selic rate, according to the latest Central Bank weekly survey. Roberto Campos Neto, who's been appointed as the new central banker president, hasn't given hints on his views of monetary policy.
Vinland Capital, founded by former partners from Banco BTG Pactual SA and Goldman Sachs Group Inc., says there's no reason for the current administration to signal ahead during this transition period.
"Inflation is low, the output gap is huge and activity levels aren't worrying," said Jose Oswaldo Monforte, one of the firm's portfolio managers. "We think there's an opportunity for a cut."