Hedge Funds Have Stocks to Dump, in Bad Sign for Sell-off
(Bloomberg) -- There's probably room for more capitulation when it comes to U.S. stocks.
Hedge funds that had stocked up on American equities are still sitting on substantial inventory, according to Sundial Capital Research Inc. While exposure to the S&P 500 Index among long-short equity funds has come down significantly from the record high of early October, it's still well above levels that marked other market lows over the past decade, Sundial President Jason Goepfert wrote in a note to clients Friday.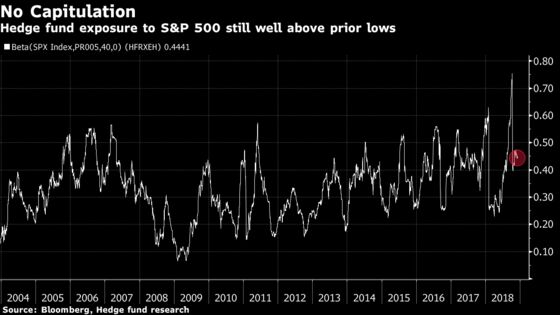 "Hedge funds are fleeing stocks, but not fast enough," said Goepfert, who set up Sundial, a Minnesota-based research firm focusing on investment risk management, after previously working at Wells Fargo, and who has more than two decades' experience in finance. "Their returns are still showing consistently positive correlations to movements in the S&P 500, suggesting they haven't reduced their exposure much despite the volatility."
U.S. stock benchmarks have fallen back into a correction this month as the bond market flagged increasing concerns with the outlook for growth and U.S.-China trade tensions remained despite a summit of the two nations' leaders. The S&P 500 Index has fallen more than 10 percent from its September high.
Hedge funds had just begun warming to stocks again, as they fought to boost performance in what has been the industry's worst year since 2011. Gross leverage, a measure of risk appetite, had rebounded by the end of last month from a one-year low, client data compiled by Goldman Sachs showed. JPMorgan Chase & Co.'s hedge-fund clients had been raising their equity exposure at one of the fastest rates this year.
Hedge fund exposure to the S&P 500, as judged by the portion of their returns attributable to the benchmark, has been dropping from the record high reached in September, according to data compiled by Bloomberg dating back almost two decades. Even so, the measure -- know as beta -- still sits about three basis points above its five-year average.
While bulls including Marko Kolanovic, a strategist at JPMorgan, have cited low hedge-fund equity exposure as a potential catalyst for a year-end rally, Sundial's Goepfert isn't alone in pointing to their positioning as a concern for stocks.
Renaissance Macro Research's Jeff deGraaf has said hedge-fund buying can be framed as a sign that investor capitulation -- a condition that usually sets the stage for a sustained recovery -- is yet to occur.
Sundial sees more selling ahead.
"Near other good lows over the past decade, exposure has dropped to 30 percent or less, and we have a long way to go there," Goepfert wrote. "It would be best for bulls if that happened sooner rather than later."