Hedge Funds Shrug Off Bolsonaro and Stick With Banco do Brasil
(Bloomberg) -- Some of Brazil's leading stock pickers have already learned to take President Jair Bolsonaro's remarks with a big grain of salt -- a skepticism that's so far benefited state-controlled lender Banco do Brasil SA.
On Monday, Bolsonaro's request that Banco do Brasil lower agricultural interest rates heightened concern over potential political interference, discomfiting some investors. The bank's shares reversed gains on the back of the president's remarks, but ended the day little changed at 49.37 reais.
"Valuation and fundamentals still speak louder" in terms of grounding the investment argument for the stock, said Leonardo Rufino, a portfolio manager at Pacifico Gestao de Recursos. "These remarks from Bolsonaro are an opportunity for the market to remind itself that state-run firms are a riskier bet, but I still find the stock cheap," he said.
Banco do Brasil is selling for 8.4 times estimated earnings, versus 9.5 times for the common shares of Banco Bradesco SA, according to data compiled by Bloomberg.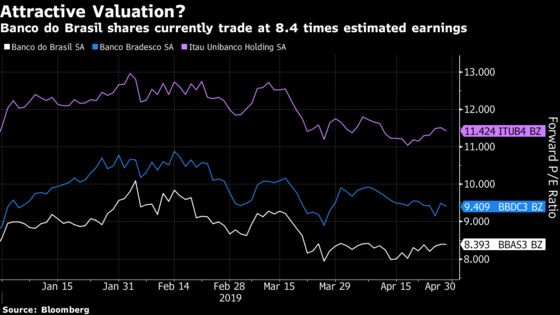 According to XP Asset Management's Joao Braga, Banco do Brasil should benefit from the expected recovery of the Brazilian economy, as well as the bank's potential sale of assets. "Bolsonaro's remarks didn't sound like an imposition and I saw them with less concern," said Braga. "If the stock had slid more, I'd buy it."
Banco do Brasil has gained 16 percent since the election of Jair Bolsonaro last October, turning the nation's largest state-owned lender into an investor darling on expectations of improved profitability and more asset sales. The bank's Chief Executive Officer Rubem Novaes has said that assets that don't mesh with the bank's operations will be sold.
Greg Lesko, a portfolio manager at Deltec Asset Management in New York, doesn't have exposure to Banco do Brasil, as he currently prefers to pay a premium for private peers, especially Bradesco, in order to steer clear of political risk. Still, Lesko is looking at any potential deterioration in Banco do Brasil shares. "My hope is this is noise and if we see significant weakness, I may look to add," said Lesko.
Banco do Brasil has 14 buy recommendations, 7 holds and no sell, with a 12-month price target estimate of 57.94 reais, which implies a positive return of 18 percent. In early April, Citi's analysts Jorg Friedemann and Gabriel Nobrega raised Banco do Brasil to buy from neutral.