Hedge Funds Should Fear Market Whimpers, Not Bangs
(Bloomberg Opinion) -- This year is ending with something of a bang as the on-again-off-again trade war sends ripples through global stock indexes. There's a growing risk, though, that financial markets will end up whimpering through 2019 as a slowing global economy and heightened geopolitical concerns conspire to leave markets becalmed – making life even harder for the hedge-fund crowd.
The most recent consensus forecast among strategists surveyed by Bloomberg is for the S&P 500 Index to eke out a gain of just 3.87 percent in 2019. That's based on expectations for a year-end value of 3,056 compared with the 2,942 they're predicting for the end of December.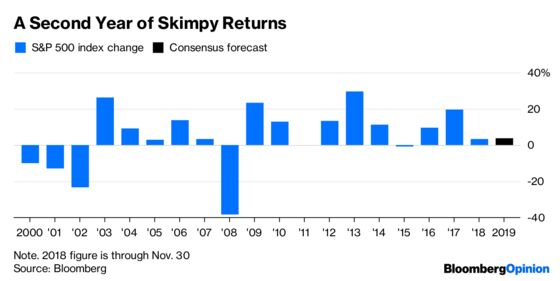 As central banks slow or withdraw the monetary stimulus they have pumped into the global economy, cross-asset returns will tread water next year, according to Bill McQuaker, a multi-asset fund manager for Fidelity International. "In 2017, every beta was positive, in '18, every beta negative – in '19, every beta zero," McQuaker, who helps oversee $43 billion, said at a briefing in London last week.
If the consensus is correct, the benchmark U.S. equity index will, as it did this year, post minimal returns. And while October's market rout did little to bolster the hedge-fund community's claim to deliver outperformance, flatlining asset values are arguably the worst of all worlds for investors trying to generate alpha.
In fixed income, the benchmark 10-year U.S. Treasury is predicted to match its equity counterpart in enduring a lackluster 2019.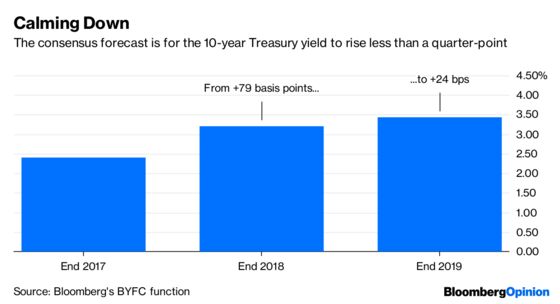 In credit markets, on a scale of one to 10, many assets are scoring twos and threes, Mark Kiesel, the chief investment officer for credit at Pacific Investment Management Co., told my Bloomberg News colleague John Gittelsohn last week. "I'll let you know when I start to see some sevens or eights," he said.
Even in real estate, which has become the alternative investment of choice for many asset managers seeking to extend the range of assets in their portfolios in recent years, the outlook is far from spectacular. Speaking at Bloomberg's The Year Ahead summit last week, Blackstone Group LP President Jon Gray said he's anticipating "flattish, very modest growth" in the asset class next year.
No wonder portfolio managers are moving to the sidelines. The most recent monthly poll of asset managers by Thomson Reuters Corp. showed cash holdings among the 47 investment firms polled rising to a 20-month high of 5.6 percent in November, for a climb of almost 2 percentage points this year.
To be sure, those market forecasts could turn out to be wrong. "We need to be attuned to the idea that the economy may look very different in the first half of 2019 or the middle of 2019 than it does today," Federal Reserve Bank of Dallas President Robert Kaplan said in an interview with the Financial Times published on Monday. The Fed may decide monetary policy is close enough to neutral to pause its tightening cycle. The European Central Bank may further delay its long-awaited interest rate increase. And who knows what effect Brexit will have on the economies of both the U.K. and the members of the European Union once it's finally enacted.
This year, though, markets are in line to pretty much echo what was expected at the start of 2018. In January, the consensus end-year forecast for the 10-year Treasury yield was about 2.9 percent, close to its current level of a bit more than 3 percent. The S&P 500, meantime, was expected to finish December at 2,875, just 4 percent away from Friday's closing price.
The hedge-fund community has a habit of publicly proclaiming that the end is nigh as a way of trying to scare investors into buying its high-priced wares, as my colleague Stephen Gandel noted earlier this month. It will be interesting to see if those exhortations growth even louder if tumbleweeds start to roll across deadbeat financial markets next year.
This column does not necessarily reflect the opinion of the editorial board or Bloomberg LP and its owners.
Mark Gilbert is a Bloomberg Opinion columnist covering asset management. He previously was the London bureau chief for Bloomberg News. He is also the author of "Complicit: How Greed and Collusion Made the Credit Crisis Unstoppable."