Hedge Funds Seek Riches in California's Carbon Market
(Bloomberg) -- Investors looking for the next big thing in carbon markets are heading to California.
After a rush for European carbon helped cause prices to more than double in the past year, hedge funds and traders are betting on California's market as a combination of an environmental play and a hedge against inflation. This carbon trade is based on a simple premise: if governments want pollution to decrease, the price of carbon must go up. 
"Seeing EU carbon prices rise in the first quarter of this year was a kick in the butt for people to start paying attention to California," said Casey Dwyer, a portfolio manager at Andurand Capital Management, where bets on EU pollution prices have helped fuel returns this year. "There's a clear price path forward: higher. It's something we have an immense amount of confidence in."
Those rising prices are good news for California officials. They use the proceeds from carbon allowance auctions to pay for a sprawling array of climate-related programs, from weatherizing low-income homes to preventing wildfires. And increasing interest from big financial institutions helps validate a market that struggled for recognition in its early years. But the bull market for California carbon may also add to consumer prices at a time when inflation is already surging.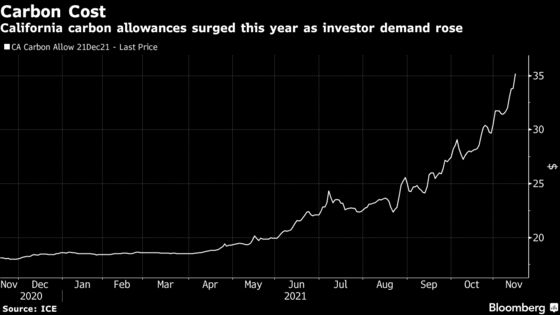 The price of Californian carbon allowances has climbed to about $35 per ton, from less than $19 at the start of the year. That has raised expectations that a quarterly auction due to be held Wednesday will see the state sell allowances at a record high price. At its last auction in August, it sold allowances for $23.30.
The market, which covers both California and Quebec, Canada, has seen an influx of speculative investors in the past year. Since the system began in 2012, the vast majority of the auctioned allowances have been bought by companies producing greenhouse gas emissions in the two regions. 
Speculative investors in the most recent auction in August, however, bought 30.4% of the allowances sold, according to the California Air Resources Board. A year earlier, they purchased 5.8%, avoiding the market as the state's Covid lockdown slashed emissions and reduced the need for allowances. In the August 2019 auction, financial institutions bought 14.7% of the allowances sold. 
Sarkis Ltd. is planning to launch a new physically-focused environmental fund after receiving approval from the California regulator to participate in auctions and hold carbon credits. The energy fund manager has about $500 million under management and until now has focused largely on fossil fuels.
"We go wherever it seems easiest to make money for a small amount of risk," said Alex Thistlethwayte, chief executive officer at Sarkis. "It's been the environmental markets where we have seen most of these opportunities in the last 12 months."
Even after this year's almost 90% increase in the price on the secondary market, many still see California carbon as an attractive bet. 
Andurand has been investing in California carbon futures, which Dwyer said may go above $50 next year, from around $35 now. Northlander Commodity Advisors' Chief Investment Officer Ulf Ek, another investor, agrees that prices could reach $50 early next year.
There's also passive money entering the market, with the KraneShares California Carbon Allowance ETF launching earlier this year. 
Part of the appeal comes from the price mechanism for California's auctions, which sets a floor price that increases each year at the rate of inflation plus 5%.   
Blackstone Inc.'s Alternative Multi-Strategy Fund, which added a position in Californian carbon last year, highlighted in its most recent update to investors that "gains were driven by a search for both yield and inflation exposure, as CCAs provide direct exposure to the Consumer Price Index."
Still, prices have been trading well above the floor price in recent months. The last auction in August saw prices close a record 32% above the floor price, according to Chris Busch, research director for the Energy Innovation Policy & Technology consulting firm. 
Busch isn't convinced the higher prices are justified. The market, he said, remains oversupplied, with more allowances available than are actually needed by the companies covered by the market. 
"I'm not convinced the traders understand the fundamentals," he said. "It seems more like sentiment."