Hedge Funds See Windfall From Bets on Puerto Rico After Storm
(Bloomberg) -- In late 2017, while Puerto Rico was reeling from Hurricane Maria, the government's bonds went into a free fall as Wall Street speculated that much of the bankrupt island's debt would need to be forgiven, leaving some of it trading for pennies on the dollar.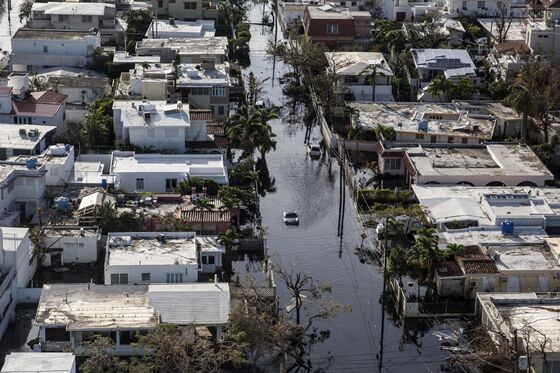 But hedge funds including GoldenTree Asset Management, Tilden Park Capital Management and Taconic Capital Advisors started plowing hundreds of millions of dollars into the U.S. territory's subordinate sales-tax-backed bonds -- a well-timed wager that's delivering big gains.
Puerto Rico's restructuring of $17.5 billion of debt this week allowed investors to exchange sales-tax bonds with the weakest claim to the revenue for 56 cents on the dollar. That's seven times more than what they traded for in December 2017, after President Donald Trump rattled the market by suggesting that Puerto Rico's finances were so devastated that its debts would need to be written off completely in court. Owners of senior-lien sales-tax bonds recovered 93 cents on the dollar.
"They had conviction in the property rights and the legal process and that played out," said Matthew Rodrigue at Miller Buckfire & Co., a unit of Stifel Financial Corp. that advised a group of investors on the restructuring of the sales-tax debt, known as Cofinas. "They were well rewarded for the trade that they made."
| | | |
| --- | --- | --- |
| Firm | Pre-Hurricane Holdings of Uninsured Junior Cofinas, as of Aug. 11, 2017 | Post Hurricane Holdings of Uninsured Junior Cofinas |
| GoldenTree Asset Management | $110 million | $1 billion, as of Nov. 26, 2018 |
| Tilden Park Capital Management | $9.2 million | $408.8 million, as of Oct. 31, 2018 |
| Taconic Capital Advisors | $22 million | $191 million, as of Oct. 31, 2018 |
| The Baupost Group | $415 million  | $452 million, as of Oct. 31, 2018 |
| Aristeia Capital | $4.4 million | $86.9 million, as of Oct. 31, 2018 |
| Old Bellows Partners | $0.0 | $41.3 million, as of Oct. 31, 2018 |
| Scoggin Management  | $0.0 | $22.9 million, as of Oct. 31, 2018 |
The restructured bonds, which began trading Friday, were among the most active in the municipal market as some investors sold to lock in any gains.
The recoveries received under the restructuring, the island's largest to date, drew criticism from some other creditors and residents who said it failed to reduce what the island owes deeply enough and could leave Puerto Rico facing another fiscal crisis years from now if the economy doesn't turn around. The exchange cut Puerto Rico's sales-tax backed debt by nearly a third to about $12 billion and frees up officials to pursue negotiations with owners of general-obligation bonds, another major chunk of its debt.
But long-term investors didn't come out ahead, given that the sales-tax bonds traded for more than 100 cents on the dollar as recently as 2013, before Puerto Rico's fiscal crisis worsened.
OppenheimerFunds, UBS Asset Managers of Puerto Rico and Goldman Sachs Group Inc. are among those that bought the junior-lien securities at full price and still held some as recently as late last year. OppenheimerFunds held $642 million of uninsured junior Cofinas as of Nov. 26, according to court documents.
Spokespeople for GoldenTree, Baupost Group, Tilden Park and Taconic Capital declined to comment.
While the firms stepped up their buying after debt prices sunk, the scale of their purchases gave them a large block of votes over the restructuring plan. The bargaining group of senior Cofina bondholders -- which also includes hedge funds -- held a combined $2.2 billion of subordinate sales-tax bonds at the end of October, nearly four times the $602 million held in July 2017, court documents show.
"When my clients bought the subordinate bonds we knew where they were, we owned them and when it came time to vote, we could vote in favor of the plan," Rodrigue said.
Some of these firms will still play a part in Puerto Rico's ongoing bankruptcy through their stakes in general-obligation bonds and other government-backed debt. GoldenTree held $258 million of commonwealth debt, as of Nov. 26. Taconic Capital held nearly $100 million of insured and uninsured commonwealth debt as of Oct. 31, according to court documents.