Hedge Funds Odey, GLG Are Exposed as Spread-Betters Bounce Back
(Bloomberg) -- Surging shares of listed spread-betting companies are bad news for short-sellers such as GLG Partners and Odey Asset Management.
Plus500 Ltd. climbed as much as 15 percent Tuesday as investors cheered a positive trading update from the Israeli company that could boost the whole industry. Peers including IG Group Holdings Plc also rose, bouncing back from declines that started around August.
Odey has a short position in IG Group, or a wager its shares will drop, equal to 1.5 percent of the spread better's outstanding stock. That's worth about $42 million. GLG is short to the tune of just under 1 percent, according to Financial Conduct Authority data compiled by Bloomberg.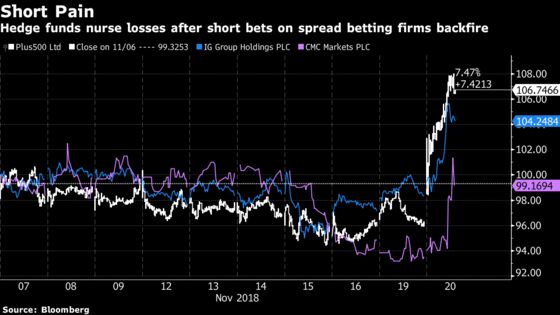 The paper losses show the precarious nature of betting against volatile stocks such as spread-betting companies, whose fortunes can easily turn. Odey and GLG declined to comment.
IG Group has ridden the positive momentum from Plus500's trading update, while spread-betters have also been helped by volatile markets, said Alistair Ross, an analyst at Investec Securities Ltd. He has a buy rating on IG Group.
Plus500 reported Tuesday it has seen strong momentum in November, and that it expects results for the financial year ending December to be ahead of previous expectations. A number of other hedge-fund firms are short the Haifa, Israel-based company, including DE Shaw and Kairos Investment Management.
Short sellers, who sell borrowed stock with the hope of buying it back at a lower price and pocketing the difference, took aim at spread-betting companies after regulators tightened rules on leverage, sparking concerns customers would stay away. Spread betters offer investors, often individuals, the chance to bet on markets using products such as contracts for difference.
IG Group has dropped about 24 percent in two years. Odey, which has been a long-time short seller against the company according to FCA data, would have benefited from this share drop. Odey also holds a long position of about 8 percent in Plus500.