Hedge Funds May Get More Joy Trading Euro Credit Carry Than U.S.
(Bloomberg) -- For hedge funds, shifting sands in the global credit cycle offer a bounty of opportunities to extract yield -- trades that favor Europe over U.S.
Investors should consider relative-value trades using European credit default swaps on high-yield debt, Societe Generale SA analysts including head of cross-asset quantitative research Sandrine Ungari wrote in a research note this month. Such strategies should benefit from the positive yield differential between junk-rated and investment grade credit, but also from spread compression, their report said.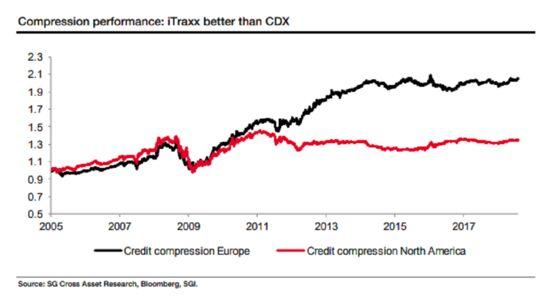 "In Europe, high-yield names tend to be higher-quality names, with an artificially-inflated debt structure created to finance a leveraged buy out," the report said. Their junk-rated U.S. counterparts "tend to be fallen angels, with high leverage, low earnings and genuine refinancing issues."
To profit from this, the bank recommends a high-spread index hedged with a low-spread counterpart, weighted by its beta to the other index. While this hedging makes the strategy market neutral, and therefore unaffected by broader swings, it has tended to generate a positive carry in the past, the report said.
The trade works when the yield differential between varying gradations of credit has more room to narrow, SocGen's report said. In the U.S. investment-grade spreads of 109 basis points compare to 341 basis points for junk bonds. In Europe the gap is bigger: high-grade securities pay risk premiums of 59 basis points versus 333 basis points for speculative-grade debt.
A higher number of defaults in the U.S. and a steeper curve for the Markit iTraxx Europe Crossover index mean that the European high-yield version of the strategy has made more money in the past than a similar trade in the U.S., SocGen's report added.