Hedge Funds Hit by Volatile-Stock Bets, Defying Wisdom of Quants
(Bloomberg) -- In trading, as in life, bad habits are hard to break. That could be one reason why hedge funds keep doubling down on a losing strategy.
U.S. and European funds have been increasingly buying volatile stocks at the expense of placid securities in recent weeks, according to Sanford C. Bernstein, even as those wagers underperform and drag down performance. A long-short version of low volatility rose 4.7 percent last month -- the most since June 2016 -- and rallied another 1.7 percent over the past two weeks.
Hedge funds' preference for wilder stocks not only flies in the face of recent trading patterns, it defies time-proven bets from quantitative investors who formally allocate to tranquil equities for reliable alpha.
It also puts them at odds with the likes of Wells Fargo & Co., which reckons the risk-aversion trend seen in October is a taste of things to come -- setting the stage for further fast-money losses.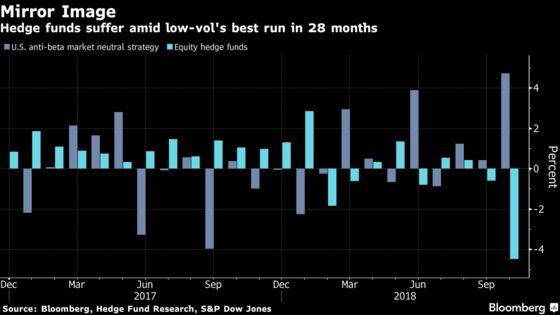 "The strong outperformance of low volatility has really hurt fund performance," wrote global quantitative strategists at Sanford C. Bernstein including Inigo Fraser Jenkins in a note Monday. "All of our fund samples have a negative exposure to the factor."
Quants have long studied the dogged strength of returns posted by low volatility, something you might expect would be arbitraged away by the putative efficiency of markets. They attribute the trend to behavioral biases that keep investors away from boring stocks.
It's inspired retail products like the $18 billion iShares U.S. minimum volatility ETF, which has gained nearly three times as much as the S&P 500 this year.
But hedge funds gravitate towards volatility thanks to performance-fee incentives that inspire riskier bets, according to Robeco Asset Management's David Blitz. In fact, the incessant stance against low-vol is one of the strongest drivers of lackluster hedge-fund performance over the long haul, he found in a study.
Where low volatility is written into funds' DNA, managers are shining. So-called minimum variance funds had been trailing their benchmarks by 1.3 percent at the end of September. Thanks to market dramas since, they're now outperforming by 0.8 percent, according to equity researchers at Wells Fargo.
"We believe October 2018 factor results are a microcosm of what we'll see in 2019 and beyond -- strong bid to risk aversion with the real rotation to low-volatility strategies," the analysts including Chris Harvey wrote in a note to clients earlier this month.