Hedge Funds Fall Further Out of Love With Yearlong Stock Rally
(Bloomberg) -- While day traders are all-in as ever, their professional counterparts, hedge funds, are increasingly hitting the exit button on a stock rally that has defied every forecast of doom.
They dumped shares in eight of the past nine sessions through Tuesday, with selling at one point reaching a one-month high, according to data from Goldman Sachs Group Inc.'s prime brokerage. At Bank of America Corp., hedge-fund clients disposed of stocks for a third week.
While the divergence to some degree reflects time-tested postures, with pros pressing out-of-consensus skepticism after a sharp run-up, the pace of retreat is getting notable. Just days before Apple Inc. and Amazon.com Inc. report financial results, technology stocks endured the biggest outflows in three months, Goldman data show.
"We're overdue for a little bit of a storm," said John Porter, head of equities at Mellon Investments. "You pull up a chart for the S&P 500 and it's just every drop has been bought for the last six-plus months."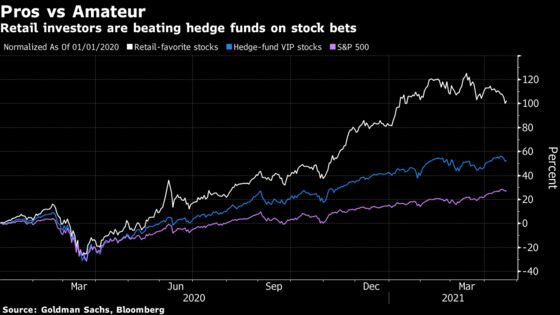 No single view explains hedge-fund bearishness, though the retreat coincides with a spike in virus cases in Europe and Asia, as well as a pullback in Treasury yields. On Tuesday, when the S&P 500 posted its worst drop in a month, Goldman's hedge fund clients were net sellers in seven of 11 sectors.
That stands in contrast with the retail crowd, who bought the dip, reprising a habit in place since the 2020 market meltdown. Retail inflows picked up Tuesday, with purchases reaching $1.4 billion, data compiled by Vanda Research show. That compared with a 12-month average of $1.1 billion.
Retail "purchases tend to be substantially larger on days when equity markets are down," Vanda strategist Ben Onatibia wrote in a note. "It also suggests that most of the selling on Tuesday was led by institutional investors."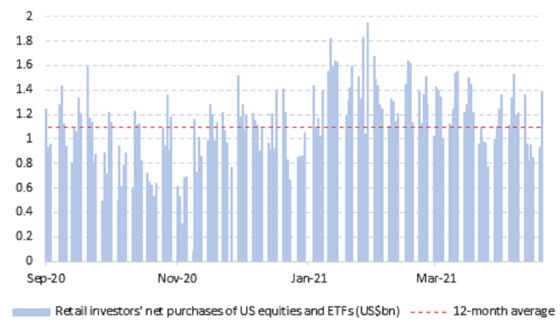 Not long ago, such a bifurcation would be a warning to the newbies, a sign the smart set was bailing after sussing out the end of easy money. But after retail traders repeatedly outsmarted their big-league rivals during the last 14 months, the picture is murkier. A Goldman basket of retail's most-popular shares is up 13% this year, beating an 8% gain from hedge funds' favorite.
"The idea that hedge funds are defensive and retail is long is the forever narrative," said Peter Mallouk, chief executive officer of Creative Planning, which has about $76 billion in assets under management. "But it's been fun seeing the retail investor at least win a few rounds here."